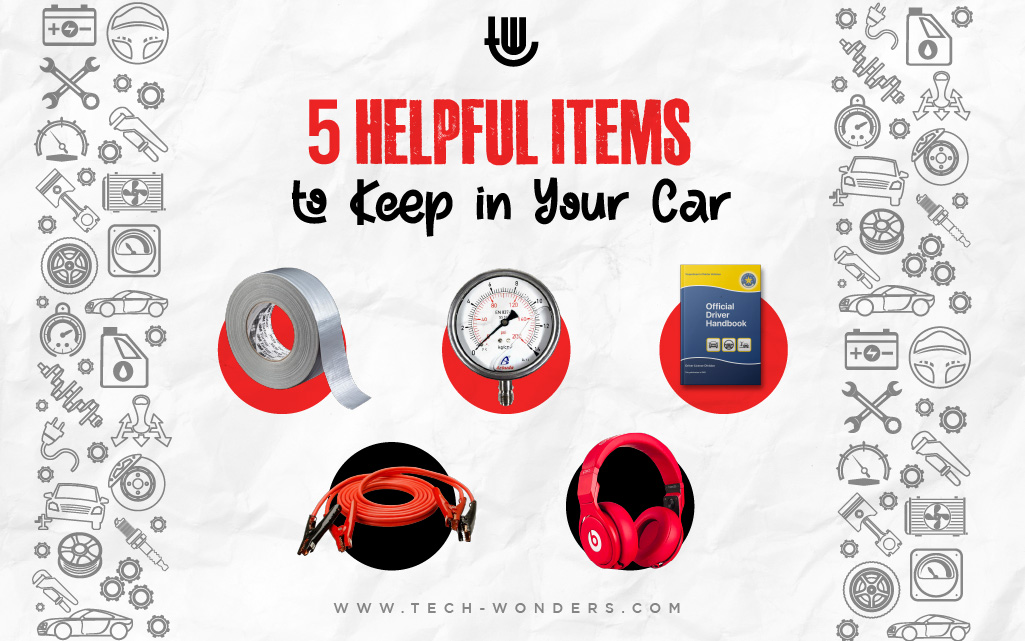 Even if you rarely travel long distances, there are still certain items that you need to keep in your car at all times.
Cars are complicated and there are several things that can malfunction at any time. Having all of the right tools helps you to deal with unexpected issues with your vehicle.
From the emergency repair equipment to the safety tools, stocking up on the right things for your car will make your life much easier. It's going to reduce any inconvenience if you break down and may prevent you from needing to call for help if you do.
It's not just the car maintenance tools that come in handy. Keeping a spare water bottle, set of earphones, or tube of lip balm can also be a lifesaver if you forget to put these things in your bag.
Here is a list of five helpful items that you should keep in your car. You may already have some of these in your vehicle but if not, it's worth investing in everything on this list to make your life easier.
Wireless Headphones
Headphones might seem like an unnecessary item for a car. After all, you can't wear your headphones and listen to music while you're driving.
That's almost asking for a road traffic accident! Not to mention that it's illegal to drive while distracted.
However, you might be traveling to work where you need headphones to do your job properly. You could be heading into town and want to listen to music while you're walking around the shops.
If you forget to pack a pair of earphones or headphones into your bag, having a spare pair in your car means you don't need to worry. You can still listen to your favourite tunes while you're working or shopping.
Go for a pair of wireless Bluetooth headphones to avoid getting frustrated with cables and wires. Take a look at a Sony WH-CH510 wireless headphones review to see if this model suits your needs or check out some of the other brands, such as Beats by Dr Dre, to find yourself a pair of the perfect headphones.
Tire Pressure Gauge
Most of us don't even think about checking our tire pressure when we set off driving. Over time, your tires begin to deflate due to general wear and tear.
If your tires deflate too much, it can cause a safety hazard. By the way, your tires must be inflated to a specific pressure as specified in your driver's handbook.
Driving around with flat tires increases your risk of getting into an accident on the roads, potentially harming you, your passengers, and other drivers. To keep your tires inflated to the correct pressure, keep a tire pressure gauge in your vehicle at all times.
If you suspect that one of your tires is going flat, you can pump it up immediately, even if you are halfway through your journey.
Duct Tape
Having duct tape in your car might seem suspicious to the true-crime lovers out there but it's a very handy thing to have available when you're driving.
Duct tape can cover up a broken window, hold a loose door handle in place, or cover up a hole in your car seat. It provides a temporary solution for the smaller imperfections in your vehicle until you can get them fixed.
Avoid using duct tape for any major issues. It's helpful but it's not magic! Don't use it to tape up a problem in your engine! Any significant problems with your vehicle need to be resolved by a mechanic as soon as possible.
Driver's Manual
Whenever you buy a new car, you will be handed a driver's manual as soon as you make your purchase. This manual provides you with all of the important details about your vehicle.
Most people don't bother reading their manual and some people completely forget it exists. However, keeping your manual close by is essential when you're driving.
Your manual gives all of the details about the specifications of your vehicle and its unique safety rules and regulations. Without your manual, you might struggle to fix your car if it breaks down.
Driver's manuals are often only small so they can easily squeeze into your glove box. So, if you have no idea where you've put your manual, it might be time to find it and put it in your car!
If you've searched high and low for your driver's manual and you have no idea where it has gone, don't stress too much. Nowadays, most of the important information that you need to know about your vehicle's specific model will be online.
You may also want to contact the dealership or car manufacturer to see if you can get another manual to keep in your car.
Jump Leads
Jump leads are an affordable and portable tool that can be easily stored in your car, and they are the solution to a dead car battery.
If your vehicle decides to break down in the middle of a busy road, you can use your jump leads to kickstart your battery. You will need to flag down another driver and use their car to provide the energy to get your battery started again.
The alternative to jump leads is an emergency battery booster. This is a tool that can connect up to your engine and spark the battery without the need for another vehicle to provide the energy.
Note that jump leads won't fix an underlying problem with your battery. If your car is constantly breaking down and the battery dies every few days, you need to go and see a mechanic.
Your car's battery might be eroded or damaged and this can be a huge safety hazard. If this is the case, you will probably need a brand-new battery.
You might also like