As we grow older, it's essential to stay active and engaged in our lives. This is where electric bicycles, or e-bikes, and electric fat tire tricycle, or e-trikes, come into the picture. These alternative modes of transportation not only offer a fantastic way to stay active but also give a sense of freedom and independence to seniors who may struggle with mobility. One such e-trike that sets itself apart is the Maxfoot MF-30.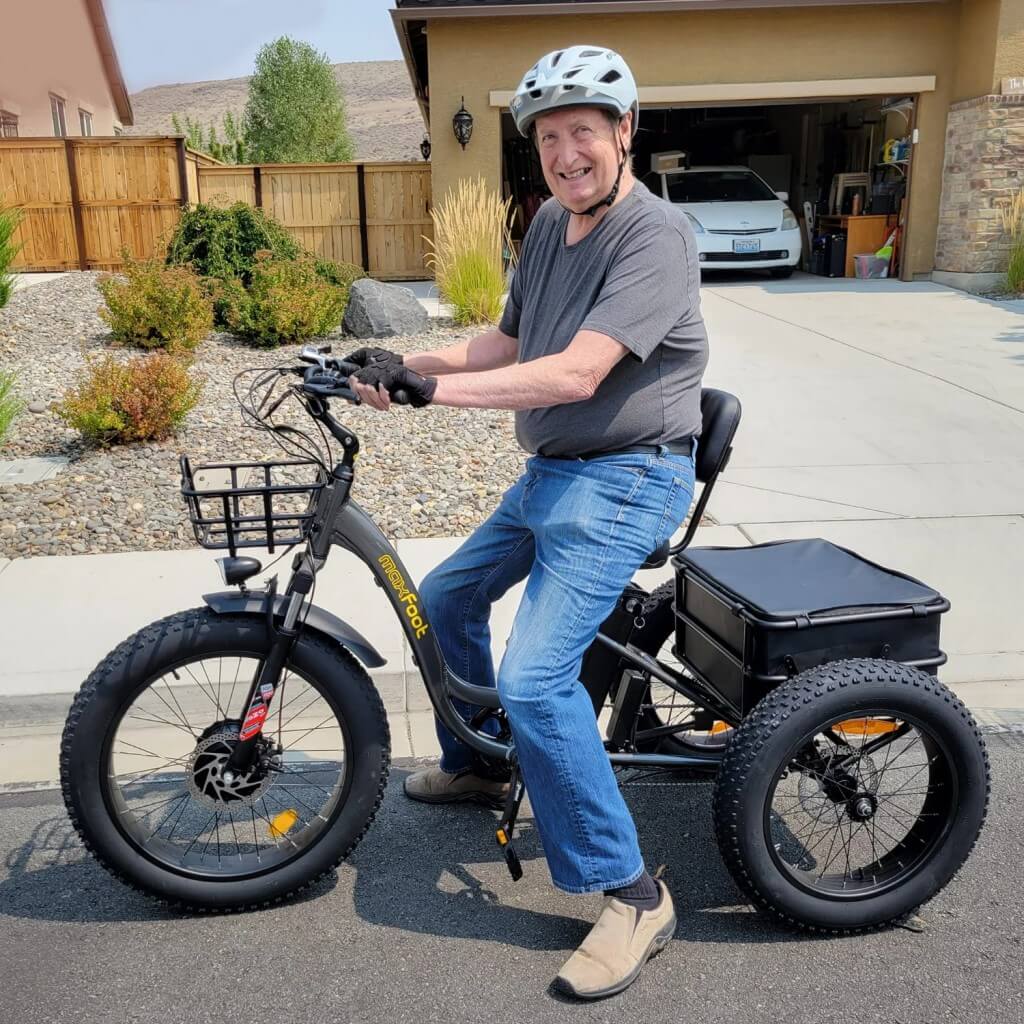 Definition of Ebikes and Etrikes
E-bikes are bicycles equipped with a motor that offers pedal assistance whilst electric trikes function on the same principle, but with three wheels for additional stability. Both vehicles help to provide a smoother ride while reducing the amount of effort needed to pedal. Furthermore, E-bikes have a range of 25-50 miles on average while E-trikes have a range of 20-30 miles, so they are ideal for use around town or for leisure rides.
Why Choose E-Trikes for Seniors
E-trikes provide numerous benefits that cater explicitly to the needs of older adults. The highlights include:
Stability: The three wheels of e-trikes offer increased stability and balance compared to traditional bicycles, making them a safer option for seniors who may have trouble maintaining their balance on two wheels.


Comfort: E-trikes often have a low step-through frame, wide comfortable seats, and an upright riding position, which make for a more comfortable ride, even for those with joint or back issues.


Assisted pedalling: E-trikes are equipped with electric motors that provide a boost when needed, taking the pressure off the rider's joints and reducing fatigue. This allows seniors to travel longer distances without overexerting themselves.


Independence: E-trikes give elderly individuals the freedom to stay active and engaged in their communities. Without depending on others for transportation, seniors can maintain their independence and mobility.
Statistics to Show the Growing Popularity of Ebikes and Etrikes
A recent study by Navigant Research predicted that global E-bike sales could top 47 million by 2023. In countries like China, E-bike sales already surpass car sales; this demonstrates a growing trend in using e-mobility vehicles among citizens. The popularity of E-bikes and E-trikes is not just a trend seen in other parts of the world, with many seniors in the US and UK now opting for these vehicles for travel, leisure, and fitness.
The Benefits of Ebikes and Etrikes for the Elderly
Improves mobility and independence
E-bikes and E-trikes can make it easier for seniors to move around, and can help to return the personal freedom of mobility the seniors had when they could drive on their own. Additionally, the motor-assisted pedal power can provide assistance for seniors who may have injuries or conditions that limit mobility.
Lowers the risk of falls and accidents
Another benefit of these vehicles for seniors is that they lower the risk of falls and accidents. Due to the lower speeds and wider tires on E-trikes, seniors can travel safely on uneven terrain without the fear of taking a spill. This added safety benefit is especially reassuring for family members who may worry about their loved ones experiencing an accident or injury while cycling.
Enhances overall physical fitness
A further benefit of using E-bikes and E-trikes for seniors is the boost to their physical fitness. Cycling is low impact and helps seniors to build strength and muscle while enhancing the cardiovascular system. The motor assist on both vehicles allows seniors to regulate their cycling pace, and seniors can monitor their heart rate to achieve optimal levels of exercise.
Helps to fight loneliness and depression
Using E-bikes and E-trikes can also combat loneliness and depression amongst seniors, including those aging in place. By opening up new opportunities for exploration and travel, seniors can boost their mood and find new hobbies or interests. When cycling, there is also an opportunity to engage with other cyclists, pet owners, or café owners.
Offers a safer mode of transportation
E-bikes and E-trikes are generally considered safe and easy to ride. They are stable and have a low centre of gravity, making it easier to balance and navigate through streets and crowded locations. Additionally, the motor assist on E-bikes and E-trikes provides an extra safety measure by helping seniors to navigate hilly terrain or longer distances without concern about fatigue or strain.
Eco-friendly mode of transport
Electric-powered cycling is very eco-friendly. It produces zero emissions and noise pollution, contributing towards a cleaner environment. With the concern over climate change, getting around without harming the planet's health could inspire seniors to lead a healthier lifestyle whilst reducing their carbon footprint.
Introducing the Maxfoot MF-30 Electric Trike
The Maxfoot MF-30 electric trike is an excellent example of a versatile e-trike that meets the needs of seniors. It provides a perfect balance between comfort, stability, and power, making it suitable for various riders, including the elderly. With its low step-through frame, seniors can easily get on and off the trike, while its child seats can accommodate grandparents who are eager to take their grandkids along for a ride. Additionally, the MF-30 is equipped with a powerful 750W motor, ensuring riders have the help they need to cover more ground with less effort.
As a bonus, the Maxfoot MF-30 comes with a large rear basket, perfect for carrying groceries, picnic supplies, or other necessities. Safety is also a priority for the Maxfoot MF-30, as it features bright LED headlights and taillights, plus a rearview mirror to ensure maximum visibility. You can use coupon code GP30 and get 100 off when you are going to buy MF-30.
You May Also Like to Read