Electronic Waste often called as E-waste is the totality of all the surplus, obsolete, broken or discarded electrical or electronic devices. E-waste includes Batteries, CDs, DVDs, CFLs, Tube lights, Computers, Monitors, Motherboards, Hard Disks, SIM cards, Mobile Phones, Cameras, Chargers, TVs, Microwave Ovens, Toner Cartridges and other electrical & electronic equipment which have become obsolete and reached the end of its technology life-cycle.


According to an article in Computerworld, an estimated 500 million computers are sitting idly in storage contributing to E-waste and Americans threw away about 3 million tons of electronics in 2003. Some 700 million cell phones have already been thrown away worldwide, with 130 million disposed of in 2005 alone. In India alone this E-waste is estimated to be accumulating around 146000 tons each year.
Without proper recycling this E-waste causes serious health and pollution problems because CRT devices like monitors and stuff contains harmful metals like mercury and barium which when released into atmospheres is a threat to all.


By recycling your E-waste you not only save your valuable space, but also save the environment. Isn't that good for all?
Recycle your E-waste with Earth Sense
Earth Sense is India's first scientific E-waste recycling company that recycles your E-waste in eco-friendly manner. Recycle your E-Waste with Earth Sense and save the Earth from being poisoned with electronic waste or e-waste.
According to Earth Sense, the below are some of the benefits of recycling of E-waste.
Every ton of steel recycled makes the following savings:
40% of the Water required in production.
75% of the Energy needed to make steel from virgin material.
1.28 tons of Solid Waste.
Reduction of Air emissions by 86%
Reduction of Water pollution by 76%
Every ton of Aluminium recycled makes the following savings:
6 tons of Bauxite.
4 tons of Chemical Product.
14MWh of Electricity.
It takes 70% less Energy to recycle Plastics.
It takes 40% less Energy to recycle Glass.
As of now Earth Sense Recycle Pvt. Ltd., is running its units successfully in Delhi, Mumbai, Hyderabad, Bengaluru, Kolkata, Kerala and Chennai.
How Earth Sense Recycles the E-Waste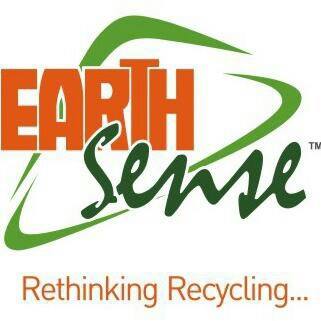 Earth Sense will buy E-waste from companies to common users like you and me depending upon the quantity and then they remove all the working pieces, sending them to market for sale and safely recycle all the leftover unusable broken pieces in a special recycling unit which separates plastic and metals. This outcome is then sent to respective markets and sold.
"So, do you have E-waste at your home occupying your valuable space? Then don't throw it elsewhere, but safely recycle your E-waste with Eco-Friendly Earth Sense."
Here is the contact list of Earth Sense units in India. You can either call or email them for information on scheduling a pick up for your E-waste.
Recycle Your E-Waste in Delhi.

Earth Sense Recycle Pvt. Ltd.,
Factory : Plot No.100, Sector – 5,
IMT Manesar, Gurgaon,
Haryana – 122050.
Email:: ewastedelhi@earthsense.in

Recycle Your E-Waste in Kerala.

Earth Sense Recycle Pvt. Ltd.,
No. 8/194, K.Pudur,
Kanjikode, Palakkad,
Kerala – 678021.
Email: ewastekerala@earthsense.in

Recycle Your E-Waste in Mumbai.

Earth Sense Recycle Pvt. Ltd.,
Factory : No A7, Gala No.1,2&3, Ground Floor,
Prerana Complex, Anjurphata, Dapoda Road,
Val Village, Bhivandi Tal.,
Thane Dist., Mumbai.
Email: ewastemumbai@earthsense.in

Recycle Your E-Waste in Chennai.

Earth Sense Recycle Pvt. Ltd.,
Office: No. 7/4, 3rd Trust Cross Street,
Mandavelipakkam,
Chennai – 600 028.
Phone : 044 – 42014765
Email: ewastechennai@earthsense.in

Recycle Your E-Waste in Hyderabad.

Earth Sense Recycle Pvt. Ltd.,
Factory : Plot No: 37,APIIC Industrial Park,
Mankhal, Maheshwaram Mandal,
Rangareddy Dist., Hyderabad.
Email: ewastehyderabad@earthsense.in

For additional information on Earth Sense services
for the recycling of your e-waste please call

Mr. S. John Robert
+91 9566099352
In INDIA
Earth Sense E-Waste Collection Center Locations
Recycle Your E-Waste in Bengaluru

Earth Sense Recycle Pvt. Ltd.,
Industrial Plot No.Spl.14,
Industrial Estate, Jigani 2nd Phase,
Jigani Hobli, Jigani Anekal Taluk,
Bangalore – 560105
Email: ewastebengaluru@earthsense.in

Recycle Your E-Waste in Coimbatore

Earth Sense Recycle Pvt. Ltd.,
C/O Real Recycling India PVT LTD,
60/1B Athipalayam Main Road,
Chinnavedampatti,
Coimbatore – 641006.
Email: ewastechennai@earthsense.in

Recycle Your E-Waste in Kolkata

Earth Sense Recycle Pvt. Ltd.,
Bagerghole, P.O:Boonhooghli,
P.S: Sonarpur, Municipalty: Rajpur-Sonarpur,
Dist: South 24 parganas,
West Bengal, Pin: 700103
Email: ewastekolkata@earthsense.in

Recycle Your E-Waste in Trivandrum

Earth Sense Recycle Pvt. Ltd.,
T.C.16/453-4, Ground Floor,
Shrilakshmi, Edapazhanji,
Trivandrum,
Kerala – 695014.
Email: ewastekerala@earthsense.in
For more information about Earth Sense E-Waste Recycler in India,
please contact 044-42014765, info@earthsense.in
Earth Sense Recycle website: www.earthsenserecycle.com