These days more people have digital cameras and more people have the internet which is why there are more choices to edit photos online. To edit photos with cool effects, you need not think that it can be done by professional photo editors like Photoshop alone. You can easily edit photos online using free online photo editors that generally offer you everything you need to improve your photos or edit photos with cool effects. There are 15 free online photo editors that I highly recommend. Photoshop Express, Pixlr Editor, Pixlr Express, Google+ Photos Editor, Splashup, BeFunky, Aviary, Psykopaint, Sumo Paint, Fotoflexer, PicFull, PiZap, Fotor, LunaPic, and PicMonkey.
Edit Photos Online for Free with Photoshop Express Editor
To make your photos look great and more attractive, to edit in the Adobe Photoshop, you need not buy Photoshop by spending a huge amount. Instead, you can use the free 'Photoshop Online Tools' available at www.photoshop.com/tools and start editing photos online with easy options in Photoshop Express Editor.
Selecting a photo in your computer through upload, you can edit the photo using Photoshop Express Editor as needed with the edit options in the menus such as Basic, Adjustment and Effects. It also has a Decorate tab which is nothing special, but allows you to add attractive graphics such as text, bubbles, stickies, animals, costumes, frames etc.
In the Edit tab there are many photo editing options like Crop & Rotate, Resize, Auto Correct, Red-Eye, Touchup, White Balance, Dodge, Burn, Black & White, Sketch, Sharpen, Hue etc. After completing the entire photo editing using Photoshop Express Editor, the image can be saved to your computer. You can also save your photos in Picasa, Flicker, Photo Bucket and other photo sharing sites online.
Photoshop Express Editor gives every user a fairly familiar interface of Photoshop. Some of the buttons from Photoshop are here, but only the basic ones. The reason I do like it though, is because of its huge and clean interface as well as the ability to save photos to my computer and in a library online. The only drawback is Photoshop Express Editor now only supports editing JPEG files. However it's one of the quickest sites to use for free photo editing online.



Edit Photos Online with Pixlr Editor – Advanced Online Photo Editor for All Your Photo Editing Needs
To edit photos online more artistically, Pixlr Editor is the free online photo editor you need to enter. Pixlr Editor lets you edit your photos online and create stunning photo effects without using Photoshop or taking the help of a professional. Pixlr Editor is the most popular and full featured online photo editor that works nearly as a professional photo editing software like Adobe Photoshop or Gimp.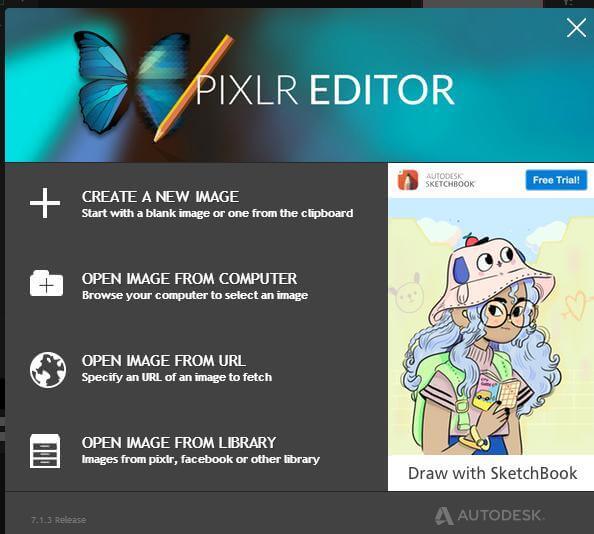 There is no need to create an account and become a member on the Pixlr site to start using Pixlr Editor online. However, when you sign up and create your account, you can save your work to your own Pixlr Library online. Even better, your Pixlr Library lets you pull in photos from popular photo-sharing sites Facebook, Flickr, Picasa, and Google Drive. To sign up for an account, click on "Open image from Library" and you will be prompted to either sign up or sign in. You can also login to Pixlr Editor with your Google account.
With an intuitive interface Pixlr Editor lets you edit photos online as required with navigators, the menus, toolbar, layers and filters. For photo editing with options like brightness, color, contrast, exposure, etc., there is 'Adjustment' menu in the menu bar. Default styles are available in the Filter menu. With a single click you can apply necessary effects. You can have full control over your images, including layers and effects. Going into 'History' palette all the applied editing effects can be viewed one by one and you can undo if you make a mistake until your photo is back to where you want it.
Pixlr Editor can also be obtained as a browser app from the Chrome Web Store. Also read my earlier post about Pixlr Editor titled "Edit Images Online with Pixlr Image Editor" – posted on 7th September 2012.
Easy to Use Online Photo Editor – Pixlr Express
There are many free photo editing tools available on the web, among those an easy-to-use online photo editor that anyone can use to make photos more creative and attractive is Pixlr Express.
Pixlr Express is a powerful photo editor online that provides a lot of handy adjustments anyone can use to fine-tune a photo and make it look great. Pixlr Express lets you quickly crop your photo, rotate the photo, resize your photo and remove red-eye in a photo. It also provides some cool photo effects like focal, blur, liquify, color splash and allows you to add borders, stickers and sparkles to further beautify your photo. Pixlr Express also includes a handy "Auto Fix" option for a one-click fix to adjust light, color, and tone to make your photo look great.
Pixlr Express is also available as an app in the Chrome Web Store
Edit Photos Free with GIMP Open Source Photo Editor
GIMP is an open-source image editor that works on various operating systems, including Windows, OS X, and GNU/Linux, with support of such languages as C++, Python, Scheme, and many others. You can use it alongside other free photo editors, like Scribus or Inkscape.
GIMP can be used for a variety of tasks, starting from creating icons and graphical design elements to high-quality image editing and deep retouching as in Adobe Photoshop. This image editor has tools helpful to photographers, illustrators or designers alike. With multiple options for customizing and possibility to use additional plug-ins, any user will be able to substantially increase the efficiency of their workflow. If you're interested in programs like GIMP, view more Top 11 Best Free Photo Editors.
Edit Photos Online in Psykopaint to Create Stunning Paintings from Photos
Do you suck at painting? No problem? At paint.psykopaint.com you can make a stunning painting from your photo with no skills. Even better, Psykopaint will automatically select the colors so you don't have to worry about it and can focus on expressing yourself.
Psykopaint is a free web-based painting tool that allows you to create great artwork from your photos. You can easily convert any photo to painting online with Psykopaint online painting tool. Take photo painting to the next level and paint your photos into masterpieces with Psykopaint.

Psykopaint is the most insanely awesome painting experience ever made. Using unique 3d technology and painting science Psykopaint allow anyone of any age, planet and skill level to express their creativity and spread it with the universe.
Psykopaint has got a fine mix of everything: Brushes that give you fine control or expression, crazy brushes for inspiration, brushes for details, some for the heavy duty. Paint in the style of Monet, Van Gogh, Pissaro or Gauguin. Realistic pencils that are realistically effected by the surface below. Much more alive than your regular painting app, Psykopaint create a unique 3d engine from scratch especially designed for painting. You can navigate thought the app via an intuitive 3d interface, so you always know where you are.
Sumo Paint Online Image Editing
Sumo Paint is another versatile and full featured photo editing and photo painting application online that works in a browser. You can save edited images to your hard drive or save it to cloud. Photo editing can be done in various modes. Sumo Paint offers many photo editing tools to impress you.
Here's a video of Sumopaint that demonstrates in a minute some of the awesome tools in Sumo Paint like the brush tool, symmetry tool, shape tool, perspective tiling, gradient tool, transform tool and 3D effects.

Sumo Paint has most versatile collection of image editing features blurring the line between desktop applications like Photoshop or Gimp.
Edit Photos Online with Google+ Photos Editor
PC World gave Google+ Photos Editor good marks, but I'm not a total fan. Yes, I admit that it is much faster and very easy to use, but it doesn't have all the photo editing features I'd like it to have. To me it has a very basic photo editing features like crop and rotate, adjust color and exposure, add filters, frames, sharpen and blur effects, etc., except for its Auto Awesome or Creations feature which does a great job I must say in creating animated GIF from your photos.
SplashUp – Online Photo Editor like Photoshop!
According to PCWorld, if an award existed for web image editor most likely to be mistaken for Photoshop, Splashup would win in a cakewalk. I was surprised to see it used the same core as Photoshop Express and that's the Adobe AIR. This lets websites work faster and it shows on Splashup.
The great thing about Splashup is it looks like a real piece of software as it has the toolbar and menu on top with File, Edit, view and so on. It also is heavily based on Photoshop as the layout is almost the same. An interesting fact is that it is one of the only online photo editors that will allow you to select a part of the image and apply an effect. Usually you have to apply the effect on the whole image. Splashup uses layers which are very helpful when you want to do some more creative stuff. The downside is it isn't very intuitive, much like Photoshop.
Edit Photos and Make Collages with BeFunky Online
You will have countless photos in system hard disk which you have liked and sometimes you want to edit some of those. To edit your photos online, have you tried BeFunky Photo Editor? You can easily use this web-based free photo editor as this is made so user-friendly that anyone can use it with ease. In BeFunky.com not only photo editing, but you can also create photo collage and Facebook cover photos to use on your Facebook profile. Through BeFunky photo editor you can do many things besides basic photo editing using a separate toolbar provided with the photo editor. As if in photo editing software, there is full-screen option to edit photo in full screen. Going into BeFunky Collage Maker, you can combine multiple photos into a collage with various layouts provided. To create a Facebook cover photo, go to the Facebook Cover layout in Collage Maker.
Picfull – Free Online Photo Editor with cool Effects
Picfull is a free photo editing tool that lets you edit photos online with free cool effects. With one-click you can easily change your photo attractively applying 20 different cool photo effects.
Read more about the Picfull Photo Editing tool in my earlier post titled "Easy-to-Use Online Tool for Free Photo Editing"
Free Photo Editing Online @FunPhotoBox
Powered by Aviary Photo Editor, Fun Photo Box is another free online photo editor with numerous photo editing options for everyone. Fun Photo Box allows you to upload photo from your computer as well as from your Facebook albums. Without having any experience in designing or photo editing, you can add additional beauty to your photos applying funny photo effects.
Edit Your Photos Online with FotoFlexer Photo Editor
Fotoflexer I will say right off the bat is that it is slow, but it makes up for that in a massive amount of useful photo editing tools such as its form of magic wand as well as other unique tools.
Surprisingly, FotoFlexer has so many advanced photo editing features that Photoshop Express and Splashup which is heavily based on Photoshop, does not have. It has over 110 cool photo effects and you can go into full-screen mode. You are also allowed to upload more than one photo at a time, which is great for editing photos heavily.



PicMonkey Free Online Photo Editor and Photo Collage Maker
I've saved best free online photo editor for last because that's what I do, save the best for last. When you are looking for a free online photo editor that's user-friendly and offers lots of photo editing options, you should try PicMonkey.


PicMonkey is a really useful web application to edit and beautify your photos better and faster online. PicMonkey collage maker creates attractive photo collages with fantastic layouts in a single click. I can confirm that PicMonkey is the most user-friendly tool to make beautiful collages online as I use it to create collages for Tech-Wonders.com. PicMonkey's collage tool also lets you create your own Facebook cover photo easily.
If you use PicMonkey you can kiss goodbye dark pictures as it's so simple to correct for exposure and crispness in PicMonkey. With PicMonkey you will be able to easily apply many cool photo effects, watermark your photos, add text to images, make transparent background images, focus in the right place of your photo, turn your photos into a cool pop art masterpiece, and much more.
PicMonkey lets you upload a photo from your computer, Facebook, OneDrive, Dropbox and Flickr. And your edited photo masterpiece can be saved to your computer or in the cloud storage sites OneDrive, and Dropbox.
Here's some more free online photo editors that are really worth checking out: piZap, Fotor, LunaPic, Pho.to, Ribbet, iPiccy, Phixr, and PhotoCat.