Mobile App Development has become an essential part of the digital marketing industry. The rise in demand of mobile app development companies it's a no brainer as apps have a clear track of proven performance and advantages achieved by all the online and offline businesses.
There are over 180 billion mobile apps downloaded by smartphone users per year. You can clearly notice that a mobile app increases your reach to the target audience. The mobile app development is much more than just a website compatible with mobile phones. There is a long list of app developers who bring about the revolution in the field with their ideas and innovations. The blog underneath will discuss the future trends of mobile app development.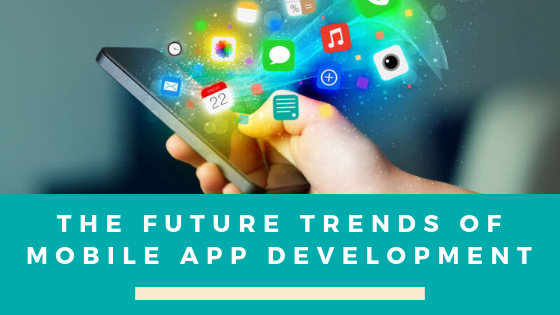 Future Aspects Of Mobile App Development:
The rise in demand and advancement in technology are the deciding factors of future development in any genre. Based on which the expected future aspects of mobile applications are detailed below:
🔵

Smart Wearable Gadgets:

Microsoft's Hololens and Apple's Smartwatch can clearly display that smart gadgets are in high use and demand. The shipment of these products was 101.9 million in 2016 that increased to approximately 25% by 2017. People are looking forward to accessories and clothing with suitable applications and handy control with the help of mobiles. It can be display devices, smart jewellery, smartwatches or health monitoring systems. These devices the sensors controllable with mobile applications. It can be seen forward to as an outgrown opportunity for app developers, vendors and gadget designers.



Like the increased use of the internet led to the remarkable growth of E-commerce websites, in the next two years, it is foreseen the online market will be occupied by mobile apps. Apps like Google Pay, Paytm, Apple Pay, Samsung Pay and other such popular applications already prove that now people look forward to easy and secure payment methods making use of mobile instead of carrying physical debit or credit cards. It adds to the convenience and safety of payment and adds all over a new definition to cashless transactions.
🔵

Information and Location Sensing Applications:

The apps that can sense and identify the location of a person or a smart gadget are much in demand. As these applications are of greater use to security. One can safeguard their gadgets with such applications. Though location feature is inbuilt in almost all the mobile phones it has its own restrictions. If any app that can connect to other gadgets and identify the location of the apparels like smart watches, valuable jewellery etc. it can reduce the crime to a greater extent.
🔵

Enterprise Mobile Management:

EMM is a combination of people, technology and process using mobile computing for channelising their business and organisation. EMM has applications in different domains like security, financial management and application management. It allows the sharing of data, wrapping up of various mobile applications, management of mobile clusters, enterprise file synchronisation and many more.

Various innovations are in progress in this field which leads to secure and efficient management of business using mobile apps. The apps can be designed for cross platforms and for compatibility for operating systems like Android, Mac, iOS and Windows. EMM helps you with remote management of your business. Your business growth will not be affected by your presence or absence.
Final Words:
Mobile applications and management system has become an integral part of the digital world. It has made the world compact and you can carry out anything and everything at your fingertips. With the advancement of mobile apps travel, security, money transfer, health monitoring, business revolution, shopping and almost everything has become highly convenient.