Hubstaff online time tracker remains one of the most powerful time tracker apps on the internet and an invaluable tool for tracking employees for effective payment. One of the most useful features of the platform is the ease of integrating with various other apps we use for task management such as GitHub and now Google Chrome web browser. Here are some desirable features of the chrome app and more reasons why more medium to large businesses are relying on Hubstaff's time and record keeping capabilities.
The extension for chrome offers feature rich interface with screenshot, online timesheets, task management and URL monitoring capabilities in addition to payroll management. Gone are the days of using separate files and apps to manage employee data and time including charging clients for hours spent on projects. With Hubstaff online time tracker, you can steer clear of all errors of processing and save on much of your time as well.
Manual time keeping can be very frustrating and error prone. Handling disgruntled employees and clients is not productive use of company time. Excel spreadsheets have had their good run and now they have lived out their importance in time management for serious businesses and corporations. Hubstaff is a cross platform cloud based time tracking solution that comes with on all devices and allows you to track autonomous groups of employees scattered around the globe from wherever there is an internet connection.
With GPRS tracking you can ascertain time and location, which is what sets apart Hubstaff online time tracker from many other free time tracking software. Tracking time and paying the workforce whether in house or outsourced as well as charging the right amount for client jobs completed is a core business of every enterprise. Automation in this area will be met with open arms by both the management and the employees because they get to keep their earnings and earn their keep.
On the workstation side, it is easy to use the application especially on the desktop application or web browser extension. You just have to select a project and click start and stop at the end or during breaks. Obviously, there are built-in features to correct for times when you forget to check out leaving the time running.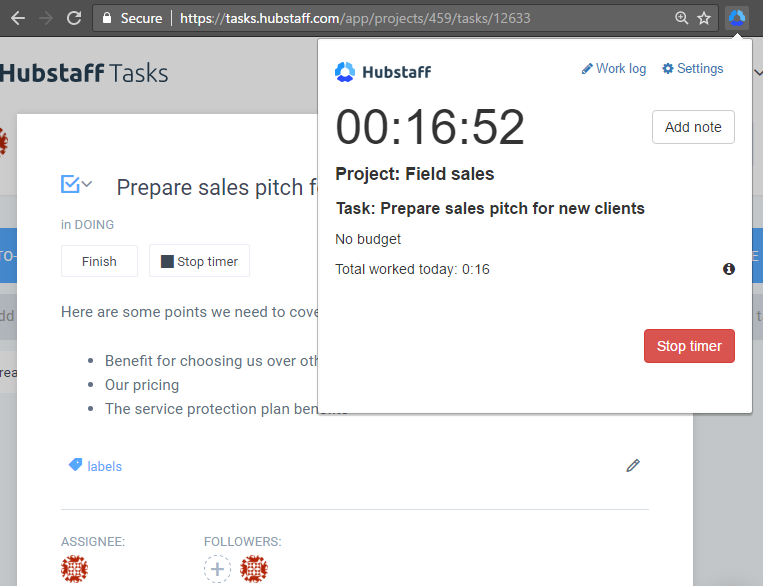 The online dashboard will let employers be the boss with real time reports and timesheets so you stay on top of your employee productivity charts. The cool thing about the feature rich interface with somewhat rugged design is the ability to tweak every setting down to the specific employee level. However, the desktop app of chrome version app may be necessary if the screenshot feature is to work.
While hub staff is subscription-based service, you get to check it out for free for up to 14 days before deciding on a purchase. The service integrates nicely with sites like, Asana, Teamwork, Jira, and Basecamp among others. Of course, there is the option of a free Hubstaff online time tracker with limited functionality which is also a good way of measuring the app's productivity before bestowing such an important role to it.
Check out this short demo to see how teams get more done with Hubstaff. Then, sign up for your free 14-day trial.