Sports analytics is one of the biggest sectors booming in the sports world. Though sports have captured the attention of the public and investors alike, analytics is a behind-the-scenes industry that combines the latest in machine-learning algorithms and data crunching.
Some programs, like those that rely on AI, are designed to make predictions by studying huge amounts of historical data. Others, such as analytics software, are designed to make immediate conclusions from live data points.
Teams rely on sports analytics to make leaner decisions related to recruitment, training regimens, and more. Fans have become accustomed to sports data as part of their remote viewing experience as more broadcasters, from ESPN to Fox, use real-time stats to elevate live games.
Even sportsbooks rely on programs that can crunch data in real-time. Now that more US states are home to oddsmakers offering exclusive deals, companies are looking for any edge over the competition. Aside from seamless mobile apps and quick banking options, punters are also on the lookout for live betting.
For example, one BetMGM sportsbook review highlights the group's diverse range of sports to wager on. Sports fans can choose their favorite team or league, then jump into the action with live betting features. This means punters can wager on how fast a pitch will be thrown or whether a goalie will save the next slapshot.
To deliver on live betting features, sportsbooks use state-of-the-art sports analytics software that can spit out real data points—immediately after a pitch is thrown or as soon as a goalie makes a save. But not every program is designed with the same purpose in mind.
Let's take a closer look at five leading sports analytics softwares used today.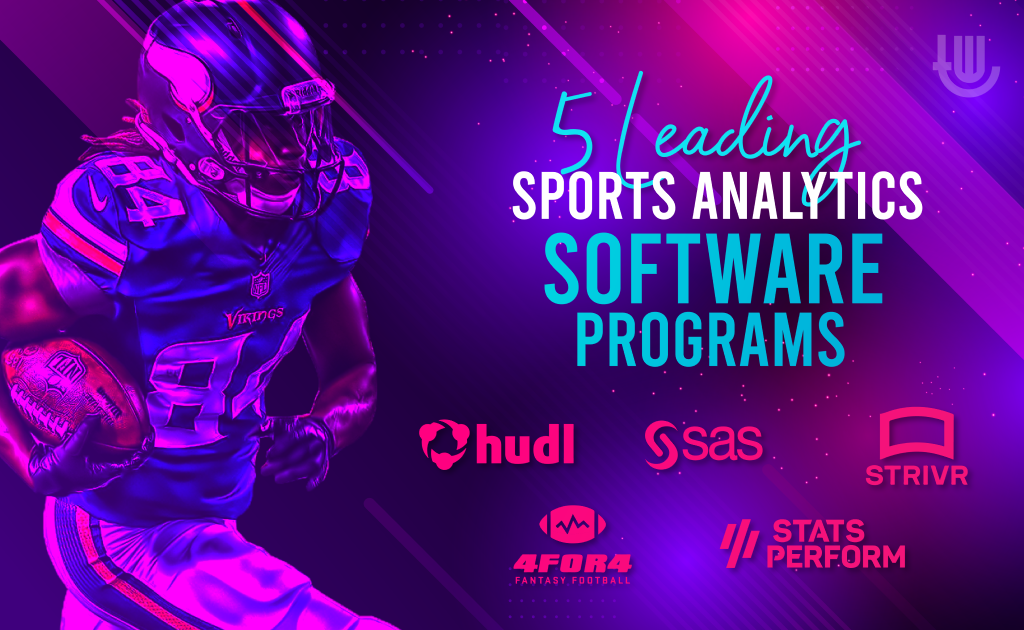 Performance Analysis: Hudl Sportscode
Hudl Sportscode allows users to crunch data related to athletic performances. This is the most standardized form of sports analytics, which is used for major league teams like the Dallas Cowboys and the LA Lakers, as well as minor and rookie leagues.
Hudl uses smart cameras to capture video, which makes analysis much easier for coaches and management. Additionally, the software is beginner-friendly and fully customizable, allowing users to crunch data for large periods of time or make live decisions with its in-game features.
Entertainment: SAS
Hudl Sportscode is an accessible program that focuses on athletes and coaches. SAS, on the other hand, focuses on using analytics to transform a sporting event. SAS focuses on crunching data with fans and venues in mind.
In other words, SAS looks to transform data into meaningful figures that spectators will find interesting while watching a live game. From there, SAS works to optimize this presentation in relation to the arena with a targeted campaign.
Player Training: Strivr
Though sports analytics programs were originally designed with optimizing a team's performance in mind, some of the most practical applications have been in relation to customizing training exercises.
One of the most revolutionary programs is Strivr, which is currently in use by NFL and NHL teams. The program crunches huge swaths of data to replicate game situations in a VR program. Specific players, such as a goalie or a quarterback, will don a headset and train in a virtual world created just for them. This allows a player to repeat an exercise without requiring the rest of the team to follow along.
Fantasy Football: 4for4
As mentioned above, sportsbooks have found multiple applications for sports analytics software. However, fantasy sports like football were the original domain of data-happy sports fans.
The technology behind 4for4 is not quite as lean as others on this list (it's not technically a software program), but it's been in the game long enough to understand the ins and outs of applying data to fantasy football.
Commercial: STATS
Based in Chicago, this giant of sports analytics programs is responsible for providing live stats to massive groups like ESPN and Yahoo alike. Similar to SAS, STATS has the fan experience in mind. It sends live, in-game data to broadcasters so they can augment live games with interesting information and stats.
STATS provides the hard data that's used in the popular visual projections that are part of most sports broadcasting experiences.
You May Also Like: