Laptops have changed the concept that "they can't be a replacement for gaming desktops". They can, and gaming experiences have become pretty handy with fabulous features and heavy memory management.
When gaming laptops, you can think of a powerful processor, amazing graphics card, enough RAM, and a comparatively larger screen than other ordinary laptops.
And, that's the point where we think that a gaming laptop is perfect for schoolwork as well. Schoolwork also demands a heavy processor along with a significant amount of storage. You might have to install too many subject-specific programs or applications on your laptop.
Therefore, you should consider a laptop that can fulfil the requirements of both gaming and schoolwork amenities.
We found a few factors that you should never miss while looking for a laptop during the research. And, they are CPU, GPU, RAM, screen size, storage, operating system, touchpad and keyboard preferences, ports, and most importantly, battery life.
Here are the top laptops perfect for both gaming and schoolwork.
Top 7 Best Laptops for Gaming and Schoolwork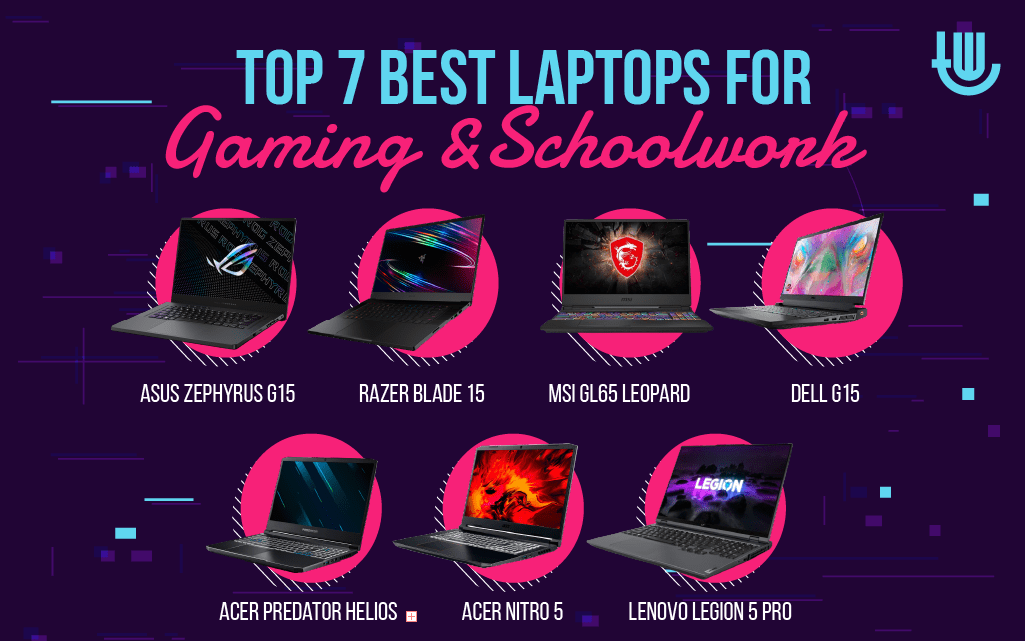 1. Asus Zephyrus G15
When you are a student, it's better to check up on a mid-range laptop, suggests laptop repair service specialists. Thus, it won't be too much on your budget, as well as you need not compromise your technical requirements.
Asus Zephyrus G15 can be your perfect buddy with a 15-inch display. AMD's new Ryzen 5000 processors power up the laptop. Additionally, it has the GPU from the NVIDIA RTX 3000 Series. The 15-inch display flaunts a refresh rate of 165Hz with a 1440p screen.
This is ideal for enjoying AAA games. The performance is satisfactory, and the battery will last for 14 hours. The battery life might vary according to how you're using your laptop. However, the only drawback of the Asus Zephyrus G15 is that it lacks a webcam.
2. Dell G15
We have another 15.6-inch gaming laptop that is also a supreme choice for schoolwork. This laptop comes with an Intel Core i7 processor, NVIDIA GeForce RTX 3050 Ti graphics card, and RAM of 16GB.
In addition, you can avail secondary storage of up to 512 GB SSD. Therefore, there's plenty of space when you think about saving tons of documents, images, videos, etc.
Dell G15 is a lightweight device, and the display provides a refresh rate of 120Hz. The keyboard has customisable RGB lighting, and you can match the keyboard backlight with the gaming mood.
Dell G15 has a touchpad with a built-in fingerprint reader for added security measures. But, the battery life is too short for this Dell laptop, and it also doesn't come with pre-installed Windows.
3. MSI GL65 Leopard
MSI laptops are unbeatable when you are talking about gaming PCs. If you are looking for productive gaming features in your gaming or school PCs, you should check out MSI GL65 Leopard.
It's packed with the 10th generation Intel Core i7 processor, a single-core clock speed of up to 5GHz, and 16GB RAM. Games, such as Battlefield V, Death Stranding, and Assassin's Creed Odyssey, are easily accessible on this MSI laptop.
In addition to this, the refresh rate of 144Hz gives you a more apparent aspect of every gaming detail. The laptop stays cool even with tremendous gaming pressure. The credit goes to the Cooler Boost 5 technology and 7 heat-dissipating pipe hardware.
Additionally, you will get many connectivity ports and a high-quality webcam for uninterrupted distance learning. However, the MSI GL65 Leopard is on the backfoot due to its bulky weight and not-so-long-lasting battery capacities.
4. Razer Blade 15
If you want something that has high-end gaming capabilities and is also a school project, then Razer Blade 15 is our next recommendation.
Empowered with a 12th generation Intel Core-i9 processor and NVIDIA RTX 30-series, Razer Blade 15 has a gorgeous CNC-milled aluminium chassis. Moreover, it comes with 32GB DDR5 RAM and 1TB SSD storage.
The screen resolutions can differ according to price, such as 4K at 144Hz, 1440p at 240Hz, and 1080p at 360Hz. On the other hand, Razer Blade 15 weighs less than 5 pounds.
Therefore, it's lightweight, and students can carry it easily. However, the trackpad of the Razer Blade 15 might be a little uncomfortable for users.
5. Acer Nitro 5
If you are looking for an entry-level gaming laptop that won't threaten your budget, you can pick Acer Nitro 5. The Intel Core i5-10300H processor and NVIDIA GeForce GTX 1650 Ti graphics card reside inside the Acer Nitro 5 gaming laptop.
It has RAM of 8GB and a secondary SSD storage of 256GB PCIe NVMe SSD. Acer Nitro 5 is a very lightweight machine, and its battery can survive up to 8 hours in a stretch.
In addition to this, Acer Nitro 5 has a display measuring 15.6-inch Full-HD screen with a refresh rate of up to 144Hz. Like other school and gaming laptops, the keyboard is normal and standardised.
But, the touchpad can handle multi-touch features and lacks a physical button. However, Acer Nitro 5 doesn't come with in-built Wi-Fi connections, and you will require wireless adapters for that. Otherwise, it has Bluetooth connection capabilities along with plenty of suitable ports.
6. Lenovo Legion 5 Pro
Gamers search for the best refresh rates among laptops while looking for an ideal one. If a high refresh rate is a priority for you, then Lenovo Legion 5 Pro should be the answer. It has an amazing 165Hz QHD screen with an aspect ratio of 16:10.
The laptop has obtained the processor from AMD Ryzen 7 5800H series. You can upgrade the graphics card up to NVIDIA RTX 3070, and the RAM is upgradable up to 32GB DDR4.
In addition to this, the laptop offers a storage space of up to 2TB M.2 SSD. The display with a brightness of 500 nits is a pleasure to have with the Windows operating system. Whether it's gaming, binge-watching, or completing assignments, it's all fun with Lenovo Legion 5 Pro.
However, the webcam of 720p doesn't make a great addition to such a decent laptop. Moreover, we are a bit upset with the performance of Lenovo Legion 5 Pro's mics and speakers.
7. Acer Predator Helios 300
Undoubtedly, Acer has done a remarkable job in manufacturing gaming and studies-focused laptops. The Acer Predator Helios 300 is a real deal when looking for productivity and performance. It has a powerful processor, durable keyboard, thermal layout, amusing screen quality, and decent battery life.
The laptop has an Intel Core i7-10750H processor and a 6GB NVIDIA GeForce RTX 2060 graphics card. Acer Predator Helios 300 has 16GB of RAM and an SSD of 512GB.
Additionally, it has a 15.6-inch FHD IPS display, and the laptop is perfect for playing GTA V, PUBG, Minecraft, Fortnite, and many more. The connectivity is also awesome, and the cooling technology is non-compromising. The battery can last up to 6 hours with a single charge. Still, we think the speakers could have been a bit louder.
What to Watch Out Before Final Commitment?
A laptop is a long-term investment so make sure that you revise all your technical requirements before you decide. Good gaming and student laptop should have at least an 8GB RAM, 256GB storage, 14-inch Full-HD display, 9th Gen Intel processor, 2GB NVIDIA GeForce MX350 graphics card, and a battery life of 4 hours.
These are the minimum requirements – the more you can have, the better benefits you will get. So, good luck with your next purchase!
Also read: