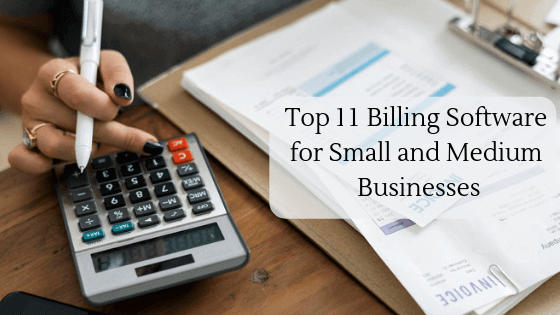 Cashiers and accountants prepare several bills for their customers. Sometimes, customers complain irregularities in those invoices that are prepared manually. Naturally, one has to perform lots of calculations in daily business operations. So, mistakes are possible in manual billing.
Inaccuracies in invoices not only make your customers unhappy but also creates a negative perception of your brand. It affects the business opportunities that are likely to come in your way. So, it would be beneficial for you to use billing software. It will help you to create accurate billings easily in a few clicks & make customers happy. Just have a look at the top 11 billing software for small and medium scale business organisations.
PeachPay is unique and flexible invoicing solution for freelancers and businesses of all sizes. It is the first payment software that lets you choose how to split the transaction fees.
Features –
(i) Get paid in cryptocurrency.
(ii) Build custom payment portal.
(iii) Send and receive payments in multi-currency.
(iv) Easy searching and sorting of your invoices.
Here is the video guide to know how to use PeachPay:
https://www.youtube.com/watch?v=yNFF_3Nb9Ho
This is a feature-rich bookkeeping solution for all small and medium scale business organisations. Based on the cloud server, this software helps entrepreneurs to create bills in a few clicks and receive payments from customers. You can send bills electronically to customers and get instant payments in your bank accounts. You can operative this billing software on all Internet-enabled devices and generate accurate bills immediately.
It is very useful software with which you can receive donations, subscriptions, and recurring payments, etc. You can use it to generate error-free bills and invoices for customers. Moreover, you can customize bills as per your needs & include key details, such as date, time, customer name, contact number, tax, discount, shipping charges, surcharges, etc. You can also embed payments forms within the website to enable customers to finish the checkout and payment process easily. The software automatically notifies customers about the transaction made by them.
Fonbell Invoicing Software is an agile billing tool used by several business organisations to automate and optimize billing work. This software gives real-time capabilities and efficiency when it comes to the creation of bills and invoices. You can automate, optimise and simplify the billing work using this system.
With its seamless and innovative billing capabilities, you easily create bills by entering a few details on the system. The billing software is based on cloud servers and can be operated through different mobile devices. So, you don't have to worry about data management, which is the foundation of accurate billing, email marketing, SMS marketing, and business marketing.
SkyBill is a nice billing Software for all those companies that are engaged in the supply & distribution of sewerage, electricity, gas, and water. It comes with several useful services, such as real-time account management, a client self-service web portal, database maintenance support, consultation support, services of Microsoft Dynamics NAV ERP, server.
This billing software allows you to calculate bills periodically, set tariffs for multiple services, define facilities and type of service for different subscribers in an easy way. This software also allows you to gather information on subscriber consumption and create personalised offers to customers to generate more sales. You can customize and localize bills in multiple languages in an easy way.
Cadebill is a good billing software for telecom companies. It allows telecom companies to handle all aspects of billing inventory, taxation, and provisioning and enable them to streamline different business operations in a systematic manner. Other business organisations use this software for billing and invoicing. Using this billing software, telecom companies can have a real-time report of income, cost, profitability. It also supports integration with different CRM systems.
Many cashiers and accountants regard ScaleFactor as a smart accounting and finance platform. It allows owners, managers, and entrepreneurs to easily automate complex bookkeeping tasks and make more transactions every day. Using this Software, you can easily manage billing & invoicing. You can easily deal with business finances with the help of ScaleFactor's AI-powered processes. It is because it automatically categorizes financial transactions in real-time & manages finances. You can handle multiple bank accounts on the billing software to track billing activities.
It is web-based subscription management and recurring billing software which allows you to take payments from customers through multiple payment methods, such as SEPA direct debit, credit card, PayPal, eWallets, etc. This software is supposed to be used by European countries. Using this billing software, you can setup fees, test phases, optional components, durations, cancellation terms, etc, in bills. You can expedite the billing activities using this software & make more transactions every day.
Many Start-ups, small companies, and individual entrepreneurs look for free billing software with excellent features & functionalities. Invoicely is a decent option for all of them. With its help, you can easily create error-free bills, track invoices, etc, in a few minutes. Apart from billing, you can also use it in direct online payments on invoices, team management, recurring invoicing, and time and expense tracking.
It eliminates manual data entry for billing and automates this action completely. It is cloud-based software that automatically processes and posts data from invoices and updates integrated accounting applications from time-to-time. You can view bills in real-time & make necessary changes to them if required. You can use it on all Internet-enabled devices and generate error-free bills for customers with all important details.
This cloud-based accounting system is a boon for creative professionals and freelancers. It is aimed at offering friendly billing and expense tracking solution to all entrepreneurs. It is equipped with several tools, which allows you to create professional bills quickly without any error. This software can be used on all Internet-enabled devices. You can use this software to accept payments from customers through different payment channels, process discounts and refunds, work with multiple currencies of the world, and add taxes to invoices in an easy way.
Final Words
To be honest, billing software has now become a handy tool to create error-free bills with all key details in a few minutes. It saves your time, money, and energy which is involved in manual billing. Just choose from these options to automate billing activities and strengthen your finances in an easy way. Good Luck!
You may also like to read: