AOMEI always adhered to the mission of "Always Keep Global Data Safer," this year, AOMEI ushered in the tenth anniversary. To thank many authoritative websites and hundreds of millions of users for their support AOMEI is holding the tenth anniversary giveaway. There are three useful products: AOMEI Backupper, AOMEI MBackupper and MultCloud.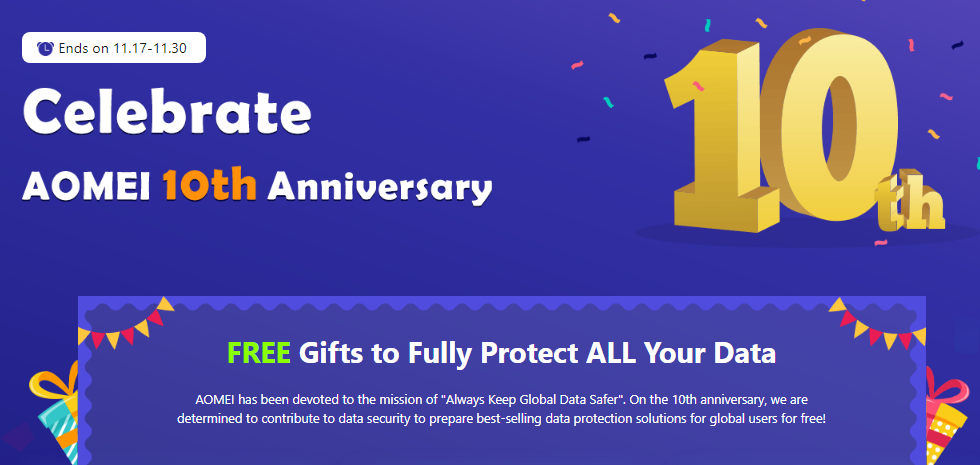 During this giveaway users can get AOMEI Backupper Pro, MultCloud Quarterly and AOMEI MBackupper Pro for FREE.
AOMEI Backupper Pro: A reliable and useful backup software to protect your Windows system and data. It can backup and restore your system, disk and files. Smart backup strategy and scheduled differential backup to save time and space. Advanced system clone, UEFI clone, GPT to MBR clone, and customized clone. This giveaway, free use AOMEI Backupper Pro for One Year.
MultCloud: A safe and reliable cloud service that allow you to transfer and manage your multiple cloud files at one place. It can combine more than 30+ cloud services in one place and transfer or sync files from one cloud service directly to another.
AOMEI MBackupper Pro: A smarter and more flexible alternative to iOS data transfer and backup than iTunes and iCloud. Backup your data with flexible way. Quick to restore all your lost files. Amazing transfer and backup speed. The platform do not save your data.
Enter the giveaway page, all products and download links are listed in this page. Click "Get it Now", you will see a setup file and a text file containing the giveaway license key.

Install the software and then register, enter the giveaway code.
As data becomes global, more and more important data need to be backed up. Also backup data is also used in different industries, such as education, government, medicine and business. These three software products can protect your data security comprehensively from Windows, Cloud service and iOS. This giveaway will continue until November 30.
You May Also Like: