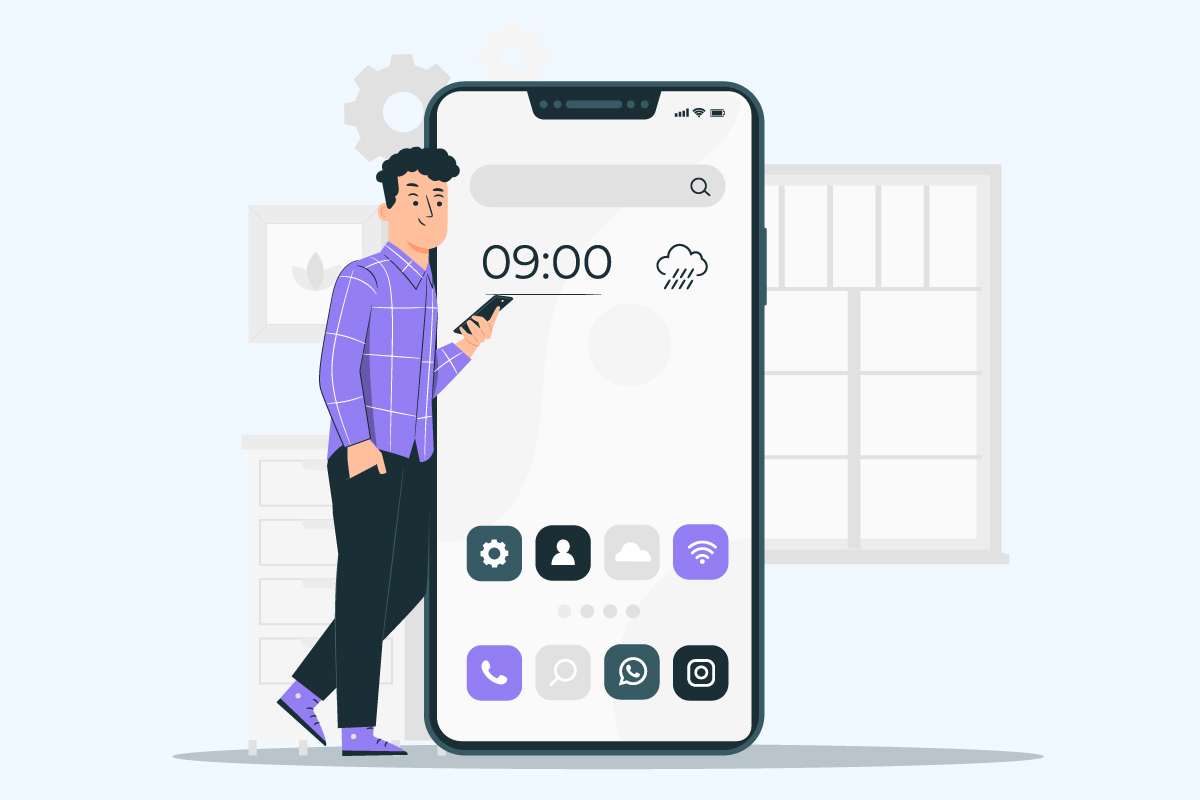 Apple smartphones are popular for their user-friendly design and seamless integration between different devices. Whether it's for personal purpose or business purposes, iPhone is suitable for any scenario.
Talking about personal and business lives, people have to go make phone calls – the primary function of any phone. With the iPhone, users are able to make calls not just using one phone number but multiple phone numbers on one device.
The flexibility to add multiple phone numbers to one device and not needing to carry a second mobile device is a strong statement in itself. There are different ways of using multiple phone numbers in an iPhone. Let's take a look.
Best 3 Ways to Consider for Using Multiple Phone Numbers in an iPhone
1. Using Dual SIM
Over the years, iPhone has received many technological advancements. But the introduction of the dual SIM feature back in 2018 has been a major upgrade to their one SIM card trend.
Apple's Dual SIM announcement introduced the use of two different phone numbers on the same phone. There will be two different SIM cards: one physical SIM and two eSIM. Each SIM carries a phone number.
That means your iPhone device will hold a physical SIM and an eSIM to access two different phone numbers. Both numbers are active at the same time and can make calls from any number you like.
The physical SIM is the continuation of the old traditional SIM that is mounted into the SIM slot in the iPhone. However, the big change was the introduction of e-SIM cards.
eSIM is the digital version of a SIM card that requires a cellular subscription plan from the carrier without needing to use a physical SIM card. It is already pre-built inside the iPhone.
The iPhone X series including iPhone XS, iPhone XS Max, and iPhone XR are the first iPhones supporting eSIM. Since then, all the iPhone series are supporting the eSIM feature.
How Can You Use Dual SIM on an iPhone?
If you own an iPhone which supports Dual SIM then first you need to buy a physical SIM from your carrier (AT&T, Verizon, etc.). You can buy the SIM online and home-delivered or buy it directly from an authorized retailer. After getting your SIM, you need to insert the SIM in your iPhone's SIM card slot. Now, your phone number is ready for making calls.
For your second phone number, you need to connect with your mobile carrier (AT&T, Verizon, etc.) who supplies the e-SIM. You will not get a physical SIM card as the SIM card is already embedded in the iPhone. You need to purchase a cellular plan for your e-SIM. Once the cellular plan purchase is successful, you can use your eSIM to make calls.
2. Using e-SIM
Previously we talked about Dual SIM where an iPhone device will hold a physical SIM and an eSIM. Fortunately, if you don't want to use physical SIMs then you can use multiple eSIM in one device.
iPhone enables you to get two eSIM phone numbers in one device. This service is currently only available on iPhone 13 Pro Max, iPhone 13, iPhone 13 Pro, and iPhone 13 mini.
eSIM is already embedded on your iPhone when you buy it. Although you store multiple eSIM in your phone, only one eSIM can be active at a time.
How Can You Use e-SIM?
If you own an iPhone 13 series then you need to purchase a cellular plan for your e-SIM. Once the cellular plan purchase is successful, you can use your eSIM to make calls. Your second e-SIM also follows a similar process.
Since only one eSIM can be active at a time, you will need to switch between eSIMs to use the number you currently want. To do so, go to iPhone's settings, click cellular or mobile data and then press on the cellular plan you want. Finally, press Turn On This Line.
3. Using Cloud Phones
The previous two ways were all related to SIMs and eSIMs to get a phone number. In addition to that, you can add more phone numbers to an iPhone with the help of cloud phones.
Cloud-based phone systems provide cheap virtual phone numbers that you can purchase and use on iPhone to make calls like regular phone numbers. They are not connected to your mobile carrier.
They are an entirely separate platform that uses your iPhone's mobile data or Wi-Fi connection for making calls. In other words, cloud phones require a reliable internet connection rather than a cellular network.
From a business point of view, cloud phones are way better than regular iPhone SIM and eSIM. Unlike mobile carriers who distribute phone numbers from their own country, Cloud phones offer multiple international phone numbers from different countries.
You are not limited to only two phone numbers. You can buy more than two phone numbers. This doesn't mean you cannot use your SIM or eSIM. You are able to freely use your SIM, eSIM as well as cloud phone without any issue.
If you own an iPhone before the iPhone X series like iPhone 8 series, iPhone 7 series, etc. then you will not get the eSIM feature. So, cloud phone is a good alternative for such devices. In addition to compatibility on wide range of devices, cloud phones also facilitates in making cheap international calls.
How to Use Cloud phones?
Cloud-based phone systems provide their mobile application for iPhone devices. You need to purchase a subscription package from your favorite cloud phone service provider. Your phone number is included in the subscription package.
Now, install the mobile app on your iPhone, enter your login credential, and get access to the phone number to make phone calls.
If you have purchased multiple phone numbers then you will be able to switch between phone numbers in the cloud phone app.
Which iPhone Devices Support eSIM for Getting a Second Phone Number?
The following are the iPhone models that support eSIM:
iPhone 14 Pro Max
iPhone 14 Pro
iPhone 14 Plus
iPhone 14
iPhone 13 Pro Max
iPhone 13 Pro
iPhone 13 mini
iPhone 13
iPhone 12 Pro Max
iPhone 12 Pro
iPhone 12 mini
iPhone 12
iPhone 11 Pro Max
iPhone 11 Pro
iPhone 11
iPhone XS
iPhone XS Max
iPhone XR
iPhone SE 3 (2022)
iPhone SE 2 (2020)
How to Use Two Phone Numbers for Making Phone Calls?
You don't have to choose between phone numbers to make calls to your contacts. Your iPhone automatically uses the same phone number by default using which you made the call to a contact.
Your iPhone automatically uses your default phone number if you have not made a call to that contact. Also, you have the option to specify which phone number you want to use to call a contact. Note that this is not applicable for cloud phone numbers.
How to Use Two Phone Numbers for Sending SMS/MMS?
You can choose between phone numbers to send SMS/MMS to your contacts. First, open the messages and press new to start a new conversation. Enter the name of the contact to whom you want to send the message. Now press the current phone number and finally choose the number you are going to use before sending SMS/MMS.
If you want to switch between phone numbers during your conversation with contact then simply press on the number you are using then easily choose the other phone number.
Why Do You Need Multiple Phone Numbers on an iPhone?
There are three big reasons why it's best to have multiple phone numbers on your iPhone. Let's have a look at them:
1. To Separate Personal and Business Contacts
One of the main reasons why so many people nowadays prefer multi-SIM phones is that they effectively separate business and personal life. Having a second phone for work is inconvenient, particularly if your profession needs you to travel frequently. This benefits you greatly as you don't have to carry a second phone with you for work.
2. Need a New Phone Number for Handling Customer
Customers calling you on your personal number is a very unprofessional way of running a business, so it's better to set up a separate phone number for them to call.
You might also need to advertise your product and services on internet forums, business websites, or social media. You can make use of a second phone number instead of risking your iPhone security and privacy by putting your personal number in advertisements.
3. Giving Phone Numbers to New People
Sometimes you will encounter new people or complete strangers to whom you have to give your phone number. You may hesitate to give them your personal number. So, in this case, you can give your second number without spoiling your privacy.
Conclusion
Having the option to add multiple phone numbers to an iPhone is great for both business and personal reasons. You can use one number for personal connection and another for managing your business.
Whether it is physical SIM, eSIM, or cloud phones, you can easily use multiple phone numbers in an iPhone without any difficulty. Even if you don't need multiple numbers, it's best to have an option to add a second number on your iPhone.
You May Also Like to Read