Recent Ransomware Attacks fallout.
The alert message "Oops, your files have been encrypted" has been influenced thousands and hundreds of computers in recent days all over the world. Everyone hated and afraid of this ransomware but has nothing to do yet.
The Ransomware named WannaCry, or Wanna Decryptor. Microsoft said that this cyber-attack that has hit 150 countries since last Friday should be treated by governments around the world as a "wake-up call".
Once your computer infected by the WannaCry Ransomware, your files such as documents, pictures, audios, movies, etc will be encrypted with the file extension ".WNCRY". In this article, I want to say that there are still high chances that you will get your files recovered if you do with the right way.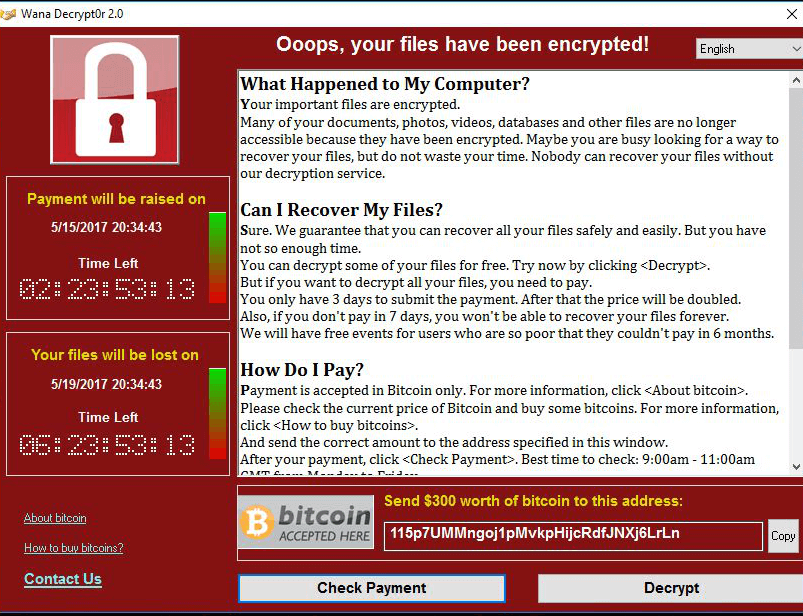 Suggestions to handle with WannaCry Ransomware infected computers
Don't pay the ransom. Instead, you can do a lot of things to defeat recent Ransomware attacks. There are many ways you can follow to defense against Ransomware. If you have made backup before, you can try to restore data to a safe place. Following are several methods to reduce the data loss.
Disconnect your infected machines from the Internet, in case it spread to other computers in the same network later.
Block port 445 in case of further influenced.
Backup data. In these scenarios, there is no better way than a good backup strategy.
If you haven't been infected yet, do as following things please.
Run a reliable antivirus software and open firewall.
Install the Windows MS17-010 vulnerability patch provided by Microsoft or upgrade to Windows 10 operating system. Keep the Windows upgrades enabled.
Do not visit unsecure websites.
Backup your crucial data to external drives using AOMEI Backupper Free (Especially for WannaCry Ransomware). Then, unplug the device from the computer.
How to use AOMEI Backupper Free?
Download backup software, install and launch. In the pop-window, select an option according to your situation. Backup or create bootable media.
AOMEI Backupper provides system backup, file backup, disk backup and partition backup. It can restore to dissimilar hardware. Restore via bootable disc. The bootable media can be USB, CD/DVD.



Although AOMEI Backupper is a backup software, it is an all-in-one backup tool. Besides backup & restore features, it has clone functions: disk clone and partition clone. What's more, it also integrates a series of practical utilities: check image, explore image, view logs, create bootable media, import/export configuration.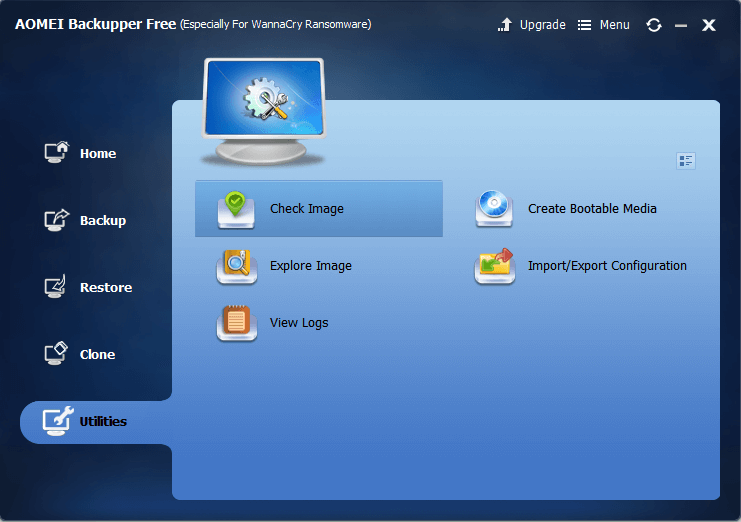 AOMEI Backupper Free is too simple to use. To backup, there are two big steps on the interface. Step one is set the backup target source, step two is to specify the destination location to receive the image. It is highly recommended to backup to an external hard drive this time. Here you can also set up an automatic backup by Schedule option. At last, click Start Backup to apply the task.
Summary
Reading here, I think you know don't panic when facing WannaCry Ransomware virus attack. Just follow above guides to reduce your data loss to the min. Moreover, having a regular backup strategy is the best defense against to ransomware. I hope everyone enjoy life and don't wanna cry!