Are you worrying about losing your data on your damaged SD card or memory card? Seeking help for recovering lost data on Mobile phone SD card or camera memory card? Don't worry, now you have the chance to free recover your data from your SD card or memory card using iCare Card Recovery.
iCare Memory Card Recovery is a data recovery software designed specifically for android cell phone memory card such as SD, MicroSD, CF card, SDHC (Secure Digital High-Capacity) flash memory card & SDXC (Secure Digital eXtended Capacity) SD card. It works with any file system such as FAT32, exFAT, NTFS or memory card of all types and brands.
And this miraculous tool is totally free for the 2018 Spring Giveaway from iCareAll. And it has a lifetime duration. Don't waste time anymore, free download iCare Card Recovery with 100% price off and rescue your data.
iCare SD Memory Card Recovery – 2018 Spring Giveaway – valid until April 30

Download iCare SD Card Recovery Software from icare-recovery.com/card-recovery/ and see the giveaway page for this spring at icare-recovery.com/giveaway/spring.html to get time limited code for iCare Card Recovery.
From all my experience, iCare Card Recovery will be a good choice. iCare Recovery is 100% safe data recovery software without virus and plug-ins, it won't slow down the run speed of your computer, and also has small size only take your computer little space. It has a miraculous data recovery ability, which can help you recover many kinds of data, even if your device was formatted, this software can help you recover them intact. And iCare Recovery has a very simple interface, it won't take your time to use it. It also has a high speed for scanning and recovery, you can easily restore your data within a few minutes. If the photos you want to recover is not too many, you can even recover deleted photos from SD card using free edition.
How to Recover Deleted Photos from SD Card/SDHC card/SDXC card free?
Step 1: Download and install iCare SD Memory Card Recovery on your computer. After it gets installed launch the software.
Step 2: Connect your SD card to your computer by a card reader.
Step 3: Use iCare SD Card Recovery to recover your deleted photos from SD card.
First, launch iCare Card Recovery and select a proper option. Choose a recovery mode. Try deleted file recovery first, if can't find your deleted photos try deep scan recovery. Deleted file recovery can recover deleted photo, video from memory card after simple deletion. Whereas deep scan recovery is more intelligent deep search of every possible file on memory card.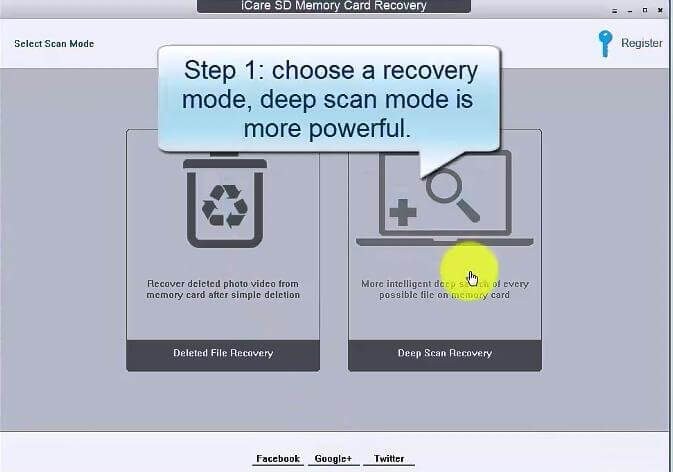 Then choose the SD card drive where you used to save your photos and click NEXT to start the scan, it may take a few minutes.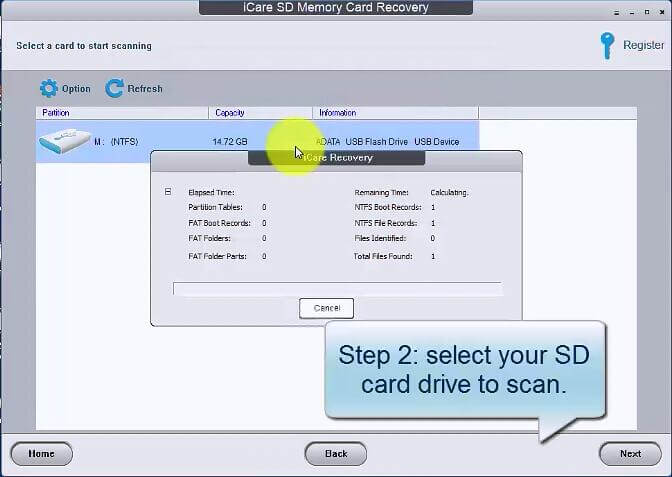 After scan, you will see a list of all the photos found on your drive disk, you can select what you need to recover, and click NEXT to go on.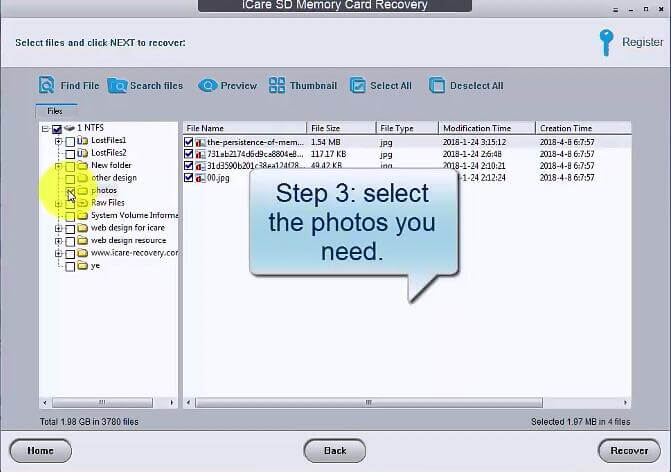 Finally, don't save your recovered photos on your original SD card drive where you lost your data, because it may overwrite the disk and cover lost data, you need to find a safe place to store your vital photos.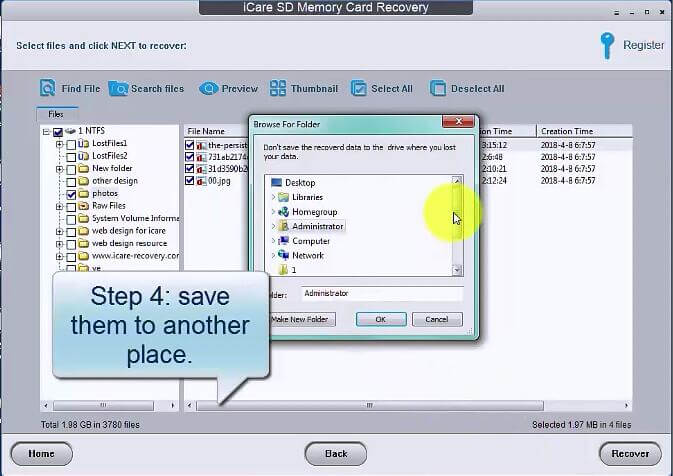 After these steps, you can restore the photos you need.
The Best Tips for Data Security – Very Useful For Everyone
For SD card, USB drive, external hard drive these data storage tool, you need to choose those products which have reliable quality and technical support service, instead of using shoddy products for cheap price, and form a habit to change new device for a few years.
Make a backup for your important data. For PC data, use Windows back up function to help you. Choose the "Back up your computer" function under "System and Security" in your control panel. For other devices, you can try some cloud-based storage software. If you are using Apple product, they have excellent back up technology to help you.
Don't format your SD card or external hard disk when your device asks, sometimes there may be problem to recognize it, change another device to have a try.
When you permanently deleted something by accident, stop your work, and try a data recovery software to help you.
Choose a suitable data recovery software for your situation. Select one that has filter function, or it would be hard to pick your data from all the data found from your device. And some software has malware or additional plug-ins alongside with it, which will do harm to your device, it is very necessary to choose a reliable.
There are so many situations that you might lose your data, more than just a accident deletion, just like data loss caused by system update, formatting, system crash, SD card error, deletion caused by Robocopy, raw drive files loss, or even a sudden power outage can cause you data loss, maybe you don't have a chance to do a backup in advance, so the use of cloud storage software may be limited, it's very necessary to download a reliable data recovery software like iCare Recovery.