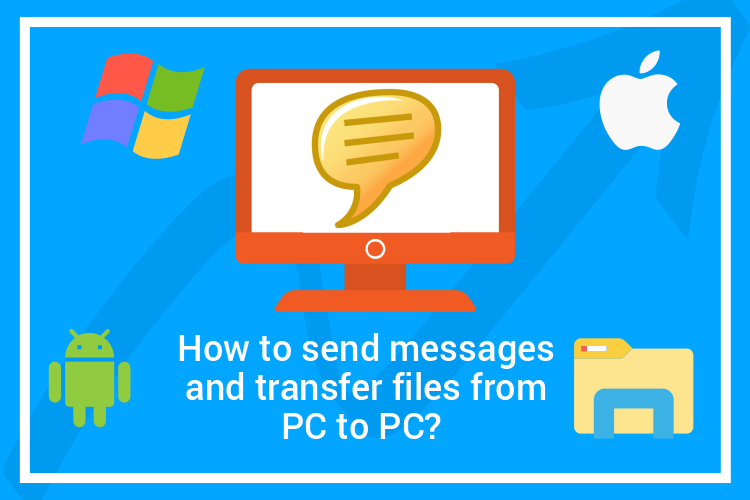 A Guide to Secure Office Communication and The Solution.
Sending text messages nowadays is a lot easier than it was a decade ago. The ability to send messages is one of the core importance of the internet. In an organizational setting, using popular messengers might not be the best idea. This is because there is an issue with security and there are third-party cookies installed, which will leave you vulnerable to hacking and social engineering attacks.
Not a lot of users think about what happens to their personal data when they use online messengers. How are the messages delivered, who has access and how are they stored? In an organization, private life should be kept separate from work. Using internet instant messengers could come with distractions for employees. Which begs the question, why should you use a private and customized messenger?
Introducing the Softros LAN Messenger, click to visit app website. It is an intra-office communication solution that is inexpensive and can provide a ton of benefits to an organization.
Safe and Secure Communication.
With public messengers, you don't have control over how the data is collected or stored. There is the fear of sharing very sensitive information on a network that allows third-party access via APIs. With the Softros LAN Messenger, staff can safely exchange messages and files in a safe and secure environment. There is no chance that the employees will be able to contact people outside the system.
Internet Connection is not required.
With most web-based messengers, the internet is required. Custom solutions like the one provided by Softros Messenger don't require an internet connection. You only need to set up a LAN and anyone who is in the network and has access can chat. This reduces internet dependability in an organization and improves communication among employees.
No Need of a Dedicated Server.
Softros Messenger has a user-friendly interface and you can start using it immediately you install. Servers can be expensive when it comes to the initial costs and maintenance. You will also have to pay more if the organization grows because most servers are not robust enough to handle big volumes. The Softros Messenger is a stand-alone and peer-to-peer application that doesn't require dedicated servers.
Remote Desktop Sharing.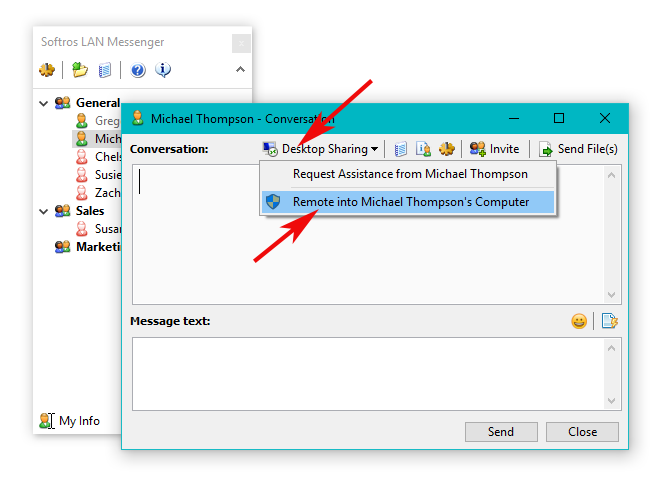 This is a feature that you're not likely to get with most web-based instant messengers. Remote desktop sharing can come in handy for the IT staff in carrying out their duties. They don't have to be physically present at the individual's workstation to troubleshoot problems with the computer. Remote desktop sharing can also come in handy in an organization when sharing presentations. You can hold inter-departmental meetings right from your workstation.
Offline Messaging.
You don't have to wait for your colleagues to be online so that you can send a message. In most cases for this to work, you need dedicated servers. This can be expensive for a small organization that would rather focus their finances on the more important stuff. You will still be able to send messages and they will be read once the recipient is online.
File Transfer.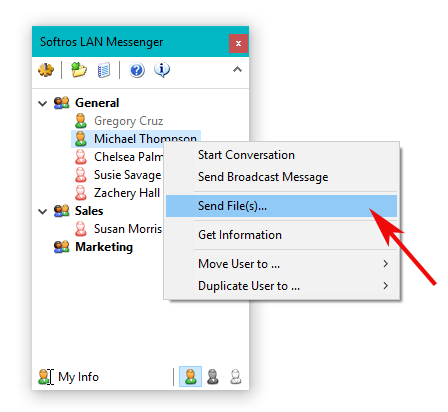 File transfer is important in an organization. Softros LAN Messenger offers easy to drop and drag solutions when it comes to transferring files. You can transfer files in real time as you collaborate and interact with your colleagues. This makes it easy for other members to access the same file when you're doing a live presentation via remote desktop sharing. The application also gives you the ability to send folders and files to multiple users at the same time.
Message History.
You can save a lot of time by keeping track of your message history in a convenient and easy interface. There is an inbuilt history viewer which makes searching for messages easy. There is a functionality that enables you to print the chat correspondence in case you need to file a report regarding work.
User-Groups.
For efficient communication, employers can be arranged into groups. Softros Messenger lets you create user groups depending on departments and job titles. You can also add multiple users to multiple groups at the same time.
Domain Support.
The software can seamlessly work in a properly set up domain controller configuration with an active directory. You can get all the user's full names and details from the Directory List. This can come in handy if you want to filter out individuals in an organization to send information or transfer files. The deployment of the software can easily be done through a Group Policy.
Bottom Line:
If you're looking for a robust and scalable solution for your business, the Softros comes highly recommended. It can be used by small and medium offices where cross-platform communication is crucial. Messengers are becoming more popular in organizations and it is important to go for one that is secure and improves the communication efficiency in an organization. Download the Softros app to give it a try.