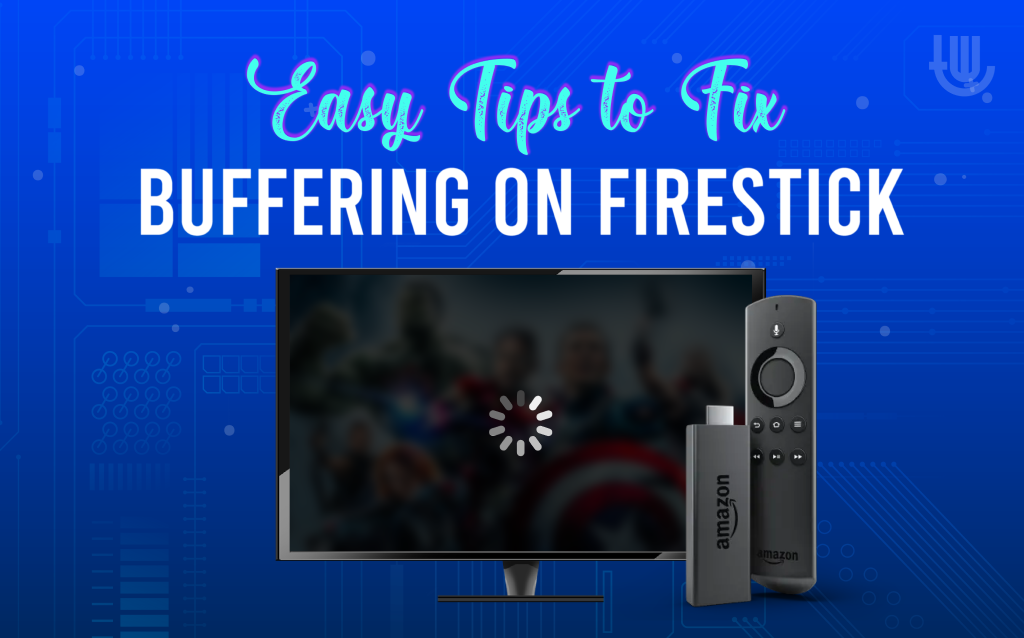 You've got your Firestick ready, a list of movies you want to watch, you've even prepared popcorn, cozied up on the couch with your television on! However, the moment you begin playing your favorite movie to begin your marathon with, you start to experience technical difficulties: Your Firestick is buffering!
Fortunately, not everyone experiences this problem with the Amazon Firestick. However, there are still many users who do, and though the percentage is small, it is still by the thousands. And it may have affected you (which is probably why you're reading this).
So, what can you do about this buffering issue? Read on for ways you can stop your Firestick from buffering.
The Causes of the Buffering
Before getting into how to stop your Firestick from buffering, let's first look into the causes behind it. Here are the common reasons why your Firestick buffers:
The main reason behind buffers is because of a bad Internet connection, and that also goes for other devices. We'll talk about how to fix your Internet connection later on.
Firesticks would overheat when you use them for very long periods. Buffering is one of the different effects of overheating, while others include connectivity loss, freezing menu, lagging hardwater, frequent restarting, and even melted casings. Stop this by lessening the time spent on using your Firestick.
Outdated operating systems are another reason, as your Firestick can't fix bugs that cause the buffering. You will need to update its OS now and then, as needed.
If your device is far from your wireless network, it would have poor signal strength from the router, causing a bad Internet connection.
Your Firestick only has 8GB of internal storage, without USB or SD card ports. If ever you download a lot of apps, it takes up too much storage, which can cause it to slow down and buffer. The same goes for those who have a lot of apps running in the background, which negatively affects the 1.5GB RAM.
It may not be your Firestick, but hardware issues from different devices, such as your modem router, cable, TV, or others you use with your Firestick.
Your Firestick may receive a lot of ads or suggested content, which also slows down your Firestick's performance.
Using free links from apps and addons may cause buffering issues, as these are usually bad and laggy links.
How to Stop Buffering on Firestick
Now that you know why your Firestick buffers, the next question is: What can you do to stop it? Here are helpful tips you can follow:
Restart Your Firestick

The first thing to do when you experience your Firestick buffering is to restart your device. This is the most basic solution and should be done first.

Simply head to Settings – My Fire TV – Restart. See if this was able to solve the problem.



Fix Your Internet Speed

If you have restarted it and it still doesn't work, then you may want to look into your Internet connection. However, if you have high-speed broadband and it hasn't been a problem, you may skip this step.

That said, it's best to take a look at your Internet connection as well, just in case. You will need at least 10 or 20 Mbps to stream at a 1080p or 4K resolution, respectively. If ever you have an Internet connection lower than that (tested through software or online), then you can contact your ISP to see if you can upgrade your current plan, or get a new connection.

If ever you don't reach your desired Internet speed despite having a plan that offers an Internet speed over 10 Mbps, you can follow these tips:

• Improve your WiFi signal strength and keep your modem router within 20-30 feet from your device. A WiFi extender can help you out here, expanding the coverage area.

• Use an Ethernet cable, as wired connections are faster than wireless ones. You can plug an Ethernet wire directly to your Firestick!



Use a Reputable VPN

Your Internet provider might slow down the Internet when it detects too much streaming activities happening. This can be avoided by having a VPN for your Firestick. Not only does this help with your Internet connection and buffering, but it will also benefit you through the following:

• Hiding streaming activities from your ISP and government
• Allow you to perform anonymous torrent downloads
• Increases your privacy and security, protecting your personal information online
• Unblock any geo-restricted content from platforms like Netflix, Hulu, HBO, and more.



Clear Up Your RAM

The RAM is about 1.5GB, which isn't a lot but adequate for streaming devices. Unfortunately, with small memory, it can result in apps taking up too much of it, resulting in low RAM space and buffering. Clear up your RAM space by closing background applications, which you can find from your 'Background Apps and Process List'.



Clear the Cache and Data of Apps

Besides closing running background apps, you can also try to clear the cache and data of any streaming apps. Users have reported that after clearing the cache of apps, they experience better performance from their Firestick.

You can clear your app data and cache through Settings – Applications – Manage Installed Applications. Select an app and you can find the option to clear the data and cache.

You may also want to tweak your privacy settings and disable data monitoring and data collection, which takes up RAM (it keeps processes running in your Firestick's background) and slows down the Firestick.

Wrapping It Up
The Amazon Firestick is one of the most popular streaming devices available today thanks to its affordability, 4K compatibility, the ability to sideload popular services like Alldebrid, and many more. However, it is prone to buffering, much to the annoyance of many. That said, there are easy tips you can follow to keep it from buffering again!
Hopefully, you found these tips helpful and that they have actually kept your Firestick from buffering. If you haven't tried them yet, don't wait any longer and do so now! Good luck and enjoy your Firestick!
Do you have questions or want to share tips on how to stop the buffering issues on Firesticks, comment down below. Your insights are much appreciated.
You May Also Like