Have you been searching for Office 365 On-Premise backup solution but haven't been lucky enough to find them? Well, your search ends here as this blog post is a full guide on how you can take a backup of your data from Office 365.
Microsoft 365, formerly known as Office 365, is one of the mostly used email services by a majority of people globally. It offers various great features and benefits to the users which is why it is widely used but there still can be scenarios where you might have to take backup of your data.
There are a few reasons that could lead users to backup their data and save it On-Premise to always keep the data safe. Let's check out these reasons and then the solution to do so.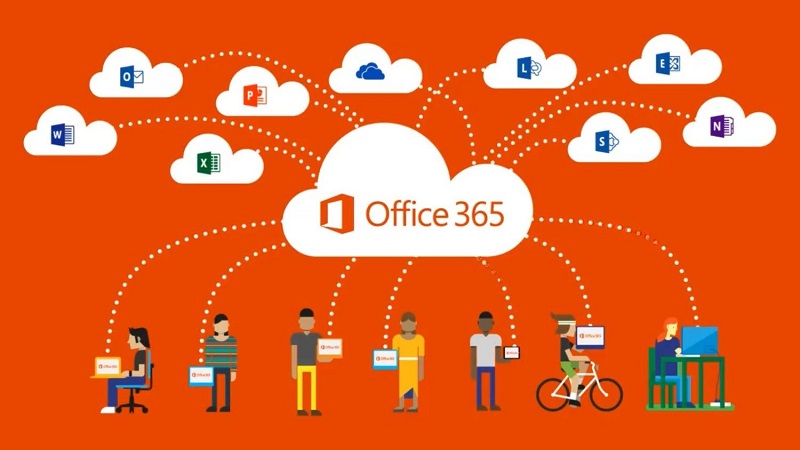 Why Do Users Search for Office 365 On-Premise Backup Solution?
The reasons to look for or take a backup of your mailbox data could be as follows:
There is a high risk that your account could get hacked or the attempt of hacking may lead to data loss which could cause a lot of trouble to the users.
Sometimes, users may just want to keep their files safe to avoid getting into any situation where they have to look for solutions to take a backup of their data on Microsoft 365.
Data loss due to virus or malware attacks.
Accidentally deleting sensitive information permanently from your account.
Now, it is always a great choice to take a backup of your data and always be sure that your files are safely stored on your local computer.
Is There Any Safe Office 365 On-Premise Backup Solution?
There are no such methods to take a backup of your mailbox data manually from Microsoft 365. Although, you can go for the brilliantly working solution that we are going to explain below.
You can go for the tool to Backup Office 365 Mailbox and make sure that your data is stored at a completely secure place. This software has a lot to offer along with an option to migrate single as well as multiple mailboxes at one shot.
The tool has various features that will help you make the process to take backup easier in all ways. Find them in the following section.
Features of One and Only Backup Solution
Since there is no Office 365 On-Premise backup solution, it is suggested you go for this tool, also, the features offered by it are amazing. Want to check these out? Read further.
1. Take Backup in Batch Mode
This tool allows the users to download their files from Office 365 in batches. It simply means that users will be able to take backup of the data from multiple mailboxes all at once. The need to run the process again and again to save the files is eliminated with this feature. All you have to do is login as Admin and provide a CSV file to the software and the rest will be done for you.
2. Live-Tracking of Procedure
You can check the real-time status of the backup process on the interface of the tool. All the information of the progress of the task will be given to you including the details User Ids, Mails, Calendars, Contacts, Status etc. This feature also makes the tool stand out by making the progress report visible to the users looking for Office 365 On-Premise backup solution.
3. Advanced Settings
The software offers advanced features that can help users to save selective data only and keep the data structure same. These features include:
Maintain Folder Hierarchy: Mark this option to keep the structure of the folder same after downloading it to your local system.
Date-Filter: Choose the dates to specify a time period from which you want to save the data.
4. Different File Formats
There are two file formats that you can choose from to save your downloaded data as. These formats are:
PST – to save the data such as emails, contacts, calendars, etc. and import it to Outlook, and all its versions.
EML – save the files and be able to import them to Mozilla Thunderbird, Windows Mail, Outlook Express etc.
Find the Working of the Best Office 365 On-Premise Backup Solution
The simple steps to follow while you backup the mailbox data from your Microsoft 365 account are given here:
Step 1. Install the tool and run it on your Windows desktop. Click on the Login button to initiate the backup process.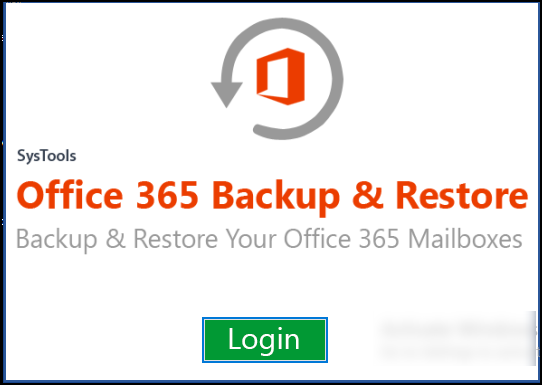 Step 2. Now, enter the credentials for your Office 365 account and hit on the Sign in button.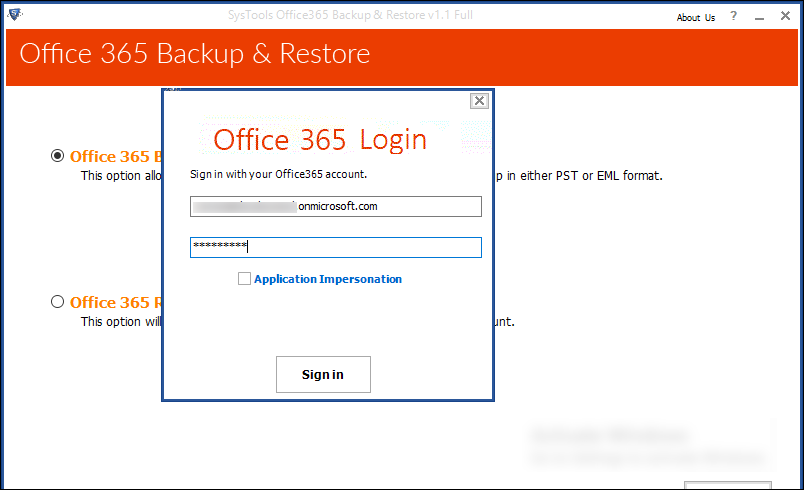 Step 3. Choose the Office 365 Backup option, hit Next and select the data you want to download.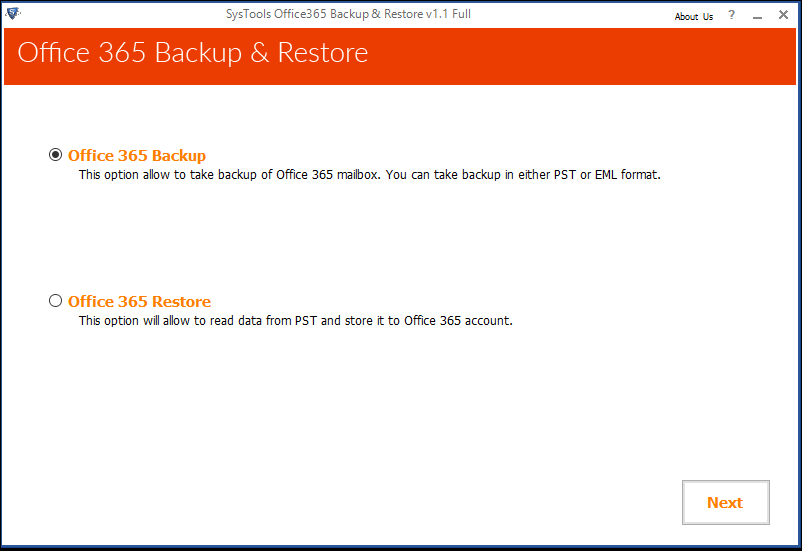 Step 4. Click on the Browse button for the destination path of the resultant files. Press the Make New Folder option and select OK.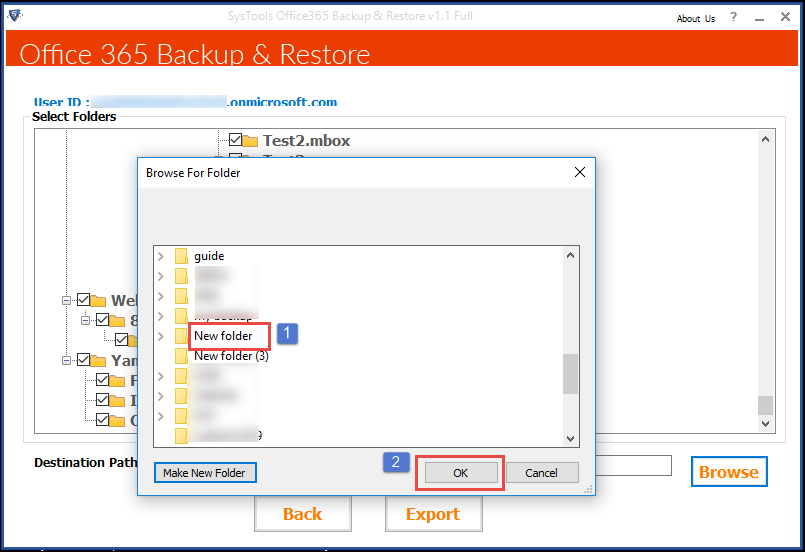 Step 5. Then, choose the file format as PST, the categories and apply the filters. Finish the process by clicking on the Start button.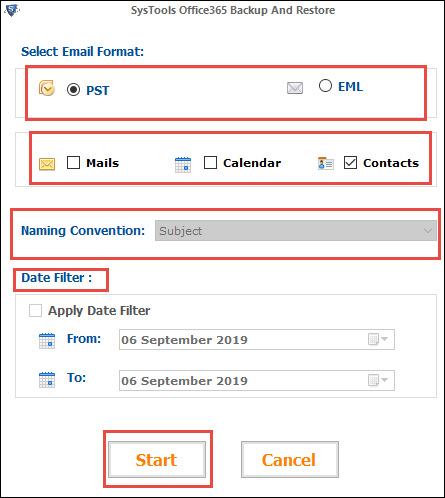 This is how easy it is to take a backup of the mailbox data from Microsoft 365 account. In case you want to Pause or Stop the process in between, you can also do so by clicking on the respective buttons.
Ending Point
Taking a backup of your data of any kind is always a great option since it is ensured that your files will be safe from any threats. The Office 365 On-Premise backup solution as mentioned is the only shot you have at saving the data locally.
This software provides a good amount of advantages to the users and help make the process easier, better, and quicker. Keep your data safe during and after the exportation process.
You may also like: