If you don't want to go insane when your computer crashes, you can use AOMEI OneKey Recovery to backup and restore your system. What is onekey recovery? In the PC industry, onekey recovery means creating full system backup and then restore. Usually, it is first to make a full backup of pre-installed system, software and files, etc. The onekey recovery image file will be stored in a hidden partition or directory.
When you want to restore, you just need to turn on the computer, before it entering the system, do some simple operations follow the instructions to commit. Because it is full backup, so we can only recover the system to the state of backup point, which is often as factory settings. Onekey restore is used to recover system of computer. But the information will be overridden by backup image information. So onekey restore is also named onekey reset.
Onekey restore first appeared in brand computer, most are laptops. Such as Dell, HP, Toshiba, Lenovo onekey recovery etc. They have a hot-key or physical button to enter the restore environment. With onekey restore, things become much more easier, you do not need to re-install the system. But brand computer built-in onekey restore program have many limitations. For example, if you created new partition or move partition may affect recovery partition where image files saved. But sometimes, we have to re-size partition especially the system partition. Thus may cause built-in onekey recovery tool disabled.
In this time, users realized that third-party onekey recovery software maybe better, at least, it still works well after changing partitions. When talking about third-party onekey recovery software, OneKey Recovery is a good one. You may hear about AOMEI Backupper before, which is an excellent backup software often gets TOP 10 reward in backup software market.



AOMEI OneKey Recovery came later than AOMEI Backupper, it is designed especially for system backup and recovery. Their core technology is the same. AOMEI OneKey Recovery inherited AOMEI Backupper with interface style, deep blue, easy to understand.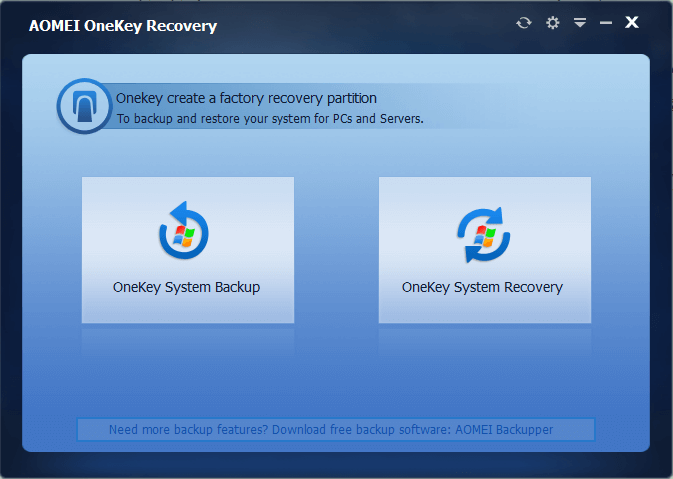 There are only two options on the AOMEI OneKey Recovery main interface. You can download onekey recovery free of cost and now this freeware supports the latest Windows 10, Windows 8.1/8, Windows 7, Vista, XP, all editions, both 32 and 64 bit.
How to Run AOMEI OneKey Recovery
For most of computers, you can press "F11" or "A" key when your system starts up to enter into Windows PE environment, and then run AOMEI OneKey Recovery automatically. For the computers with EFI/UEFI motherboard, you can enter into the program to recover your system by using Windows Boot Menu. Certainly, AOMEI OneKey Recovery allows you to configure how to display the boot menu. So we can say it is easy to use.